Reimagined consumers will abandon brands that don't support their new values—and pay more to those that do.
The pandemic compelled consumers—en masse—to shift their expectations more rapidly and completely than we've seen at any other time in history. People looked inward, elevating concepts of relationships and responsibility and re-evaluating their priorities. Now, many of them are applying their new mindsets to where, what and how they buy. Through their purchase choices, they are purposefully seeking to influence their communities and the environment, and to confirm how they see themselves in the world.
Accenture's recent survey of more than 25,000 consumers across 22 countries, with follow-up focus groups in five countries bears this out: A full 50% of consumers say that the pandemic caused them to rethink their personal purpose and re-evaluate what's important to them in life. Forty-two percent say the pandemic made them realize they need to focus on others more than themselves. These consumers —we call them the "Reimagined"—are changing their buying habits accordingly across all 14 industries we covered. In doing so, they're creating enormous opportunities for companies that respond by resetting strategies and setting new standards for meeting and exceeding their expectations.
Our research revealed preferences that are powerful enough to drive both brand switching ("should I stay?") and willingness to spend more ("would I pay?").
The Reimagined represent significant buying power
Reacting to the statement
"The pandemic made me totally revise my personal purpose and what is important for me in life"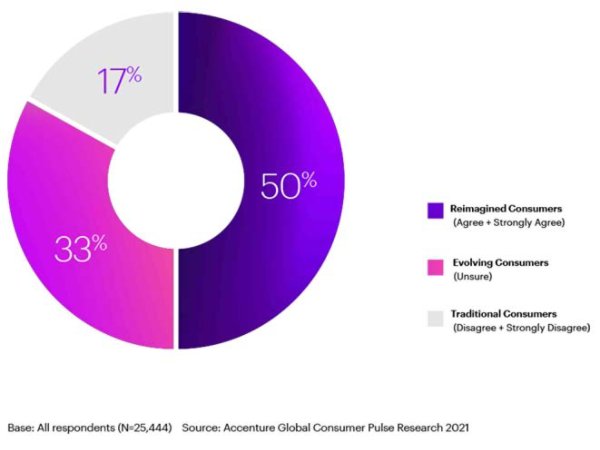 Just 17% of consumers—those we call the "Traditional"—said they were unchanged by the pandemic. The remaining 33% have mindsets that are still evolving, but we believe that many of them, too, are shifting and—coupled with the Reimagined—represent an opportunity for companies to capture market share.