Blog
The foundation of a new reality in travel
10-MINUTE READ
September 01, 2023
Certainly, many of you are curious observers, like me, who never fail to notice and appreciate subtle improvements or bold innovations during business trips or leisure journeys. Be it your kids' live interaction with their favorite sports star's holographic avatar at the airport, or sunny side up eggs with medium cooked veggies on the side appearing at the breakfast table at the hotel, as if the chef read your mind. Or even a thoughtful message that your luggage safely made it through the short connection to the underbelly of the airplane, somewhere just below the business class seat you're in right now.
I'm constantly amazed by the innovations that delight the traveler at every step of the journey and, at the same time, make a big difference to the travel business. Going to new places, meeting new people, embracing new experiences has never been more high-tech—or more exciting.
Ushering in a new era of travel
It's safe to say that the travel industry, and travel itself, is on the cusp of a new era. With ambitious travel players competing to shape new physical and digital realities for consumers, and quickly evolving technologies like generative AI changing the way we approach work trips, vacations and holidays, it's easy to see why many view this as a moment of fundamental transition for the industry.
In fact, 98% of travel executives agree that the convergence of the digital and physical worlds will transform business over the next decade. It is going to be an era of travel in which the interactions and experiences—in a digital world built on 'bits' and in the real world built of 'atoms'—will become not just seamless but more synergetic.
In this new era, companies that understand and prioritize investments in the big innovations that are shaping the industry—cloud, metaverse, AI and data—are not just going to see higher returns but are going to play the biggest part in shaping the future of travel. With this in mind, we've identified four trends which travel players need to be aware of and embrace to stay on top of their game. 
Digital identity
Digital identity is about making it easier for travel companies to interact and connect with consumers, while helping ensure the safety and security of travelers and their data. With the UN calling for the creation of a legal ID for all people by 2030, travel companies need to establish core digital identities. This means creating a secure and trusted identity system that makes use of digital ID's and leverages biometrics and other innovations to remove some of the hassle and hazards of traveling in the process. 
Take, for example, Air Canada – which has launched a digital identification system. Using the Air Canada app, customers can create a digital profile before taking a trip, which is used to confirm their identity at airports. Customers can then proceed along their journey without needing to show a boarding pass or government ID.1
Keeping customers safe and secure is only part of the equation, though. Creating digital identities can help create interconnected experiences between travel players and provide a completely different end-to-end traveler experience. Delta Airlines understands this quite well. That's why they opened the first biometric terminal in the U.S. in 2018, allowing travelers to use facial recognition for check-in bag drop and more. The solution removes the need for customers to present their passport up to four times per departure, saving an average of nine minutes when boarding a widebody aircraft.2
Data transparency
Like all businesses, travel companies need to use data, and use it better, to stay competitive and relevant. This goes hand in hand with having the right data architecture to improve data management, deliver better visibility and achieve superior insights.
By leveraging data and data platforms in the right way, travel companies can increase transparency, visibility and trust into their processes, consumers, investments and more. For example, Radisson Hotels by Choice Hotels created a scalable digital Salesforce CRM platform and franchisee portal that consolidates all owner and franchisee touchpoints onto a single system. As a result, the company is closing deals more quickly and reducing administrative costs, and owners and franchisees have personalized information at their fingertips via any channel.
Of course, personalization is also another important aspect of data transparency. By making better use of data, travel companies can more easily understand traveler preferences, determine what customers want, create truly unique experiences, and engage customers like never before. For example, by integrating data from different sources such as airports, airlines, and ride-hailing services, companies can provide customers with a suggested schedule for their door-to-door journey and offer relevant promotions. This is going to be essential in an increasingly competitive environment where travelers are willing to spend more on luxury travel and unique experiences that they can't find anywhere else.
Finally, data-sharing agreements are also essential, and fundamental to protecting customer privacy, loyalty and trust. And building intelligence and security into data platforms can help identify risks such as synthetic profiles and deep fakes.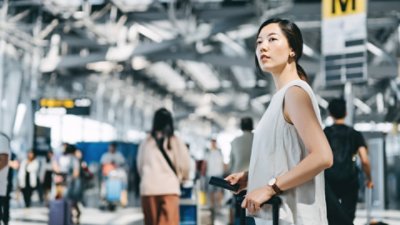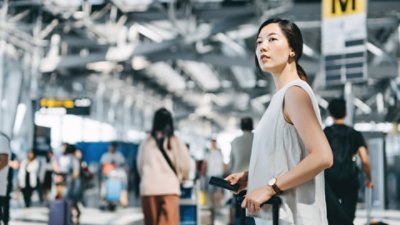 Generative AI
Generative AI is not just the latest innovation in the world of travel but also has the potential to revolutionize the entire traveler journey and the travel value chain. Travel companies can use the power of generative AI to guide travelers seamlessly through their journey. And they can do this while delivering hyper-personalized experiences, and opening up new possibilities in travel inspiration, personalized trip planning and individualized marketing.
Priceline's new automated travel agent, Penny, is a great example of how Generative AI can make the traveler journey easier and more robust. Connected to Priceline's entire hotel network, Penny can provide local restaurant and sightseeing recommendations, let customers interact with the front desk, and even allow customers to safely and securely book directly within the chatbot.3
Ultimately, this technology has the potential to transform the way the travel industry does business, and the way it impacts both customers and employees—all while making customers feel more confident, engaged and secure as they go through their entire journey.
Technology and science
For decades, we've focused on the impact and potential that new technologies are delivering for the travel industry. Now, it's becoming apparent that technology alone cannot solve major global problems affecting travel. Instead, we've got to combine technology with the latest science to make travel safer and more efficient.
The Avelia platform, built and launched together with Shell, Accenture and American Express Global Business Travel aims to tackle these fundamental challenges. It's an innovative, blockchain-enabled solution that links corporate entities, cargo players and airlines to producers of sustainable aviation fuel (SAF). The platform enables corporate entities to share the environmental costs and benefits of SAF. This means that more SAF can be used to fuel flights, in turn providing fuel suppliers with the confidence to invest in production. And of course, this is going to help the aviation industry make great strides toward meeting net zero targets.4
Solving for such multi-dimensional and time-sensitive problems also requires huge computational power. Quantum computing—in particular—will be crucial. This technology will offer benefits like faster calculations, more accurate data-based decision making and the ability to develop new algorithms and system capabilities. These advantages will help airlines better handle disruptions, plan networks more efficiently and improve safety and fuel usage with near real-time response rates.
Getting ready for a new reality
In a marketplace that's changing faster than ever before, travel companies have got to evolve at an even faster pace. Travel companies who seize the moment will put to better use innovation, technology and science to shape the future of travel, influence customer journeys, and ultimately thrive in a new reality.
To drive the kind of customer engagement necessary to grow and excel, travel companies have got to embrace digital identity to protect travelers and make the journey much smoother. They have got to accept data transparency as a matter of practice and use their troves of data to offer unprecedented insight into their business. They must use generative AI to transform their organizational processes and offer customer experiences like never before. And they must combine technology and science to tackle major industry challenges and major obstacles to the future of travel itself.
I'm excited about all the changes I see around me every day in the travel industry. There is potential for limitless growth for travel companies that are able to quickly mobilize their technology investments and pivot to be leaders in the new era of converging digital and physical realities.
Sources:
1 Presenting Air Canada's digital identification system, aircanada.com, accessed August 2023.
2 Delta's exclusive partnership with TSA streamlines check-in, security in Atlanta, news.delta.com, accessed August 2023.
3 Introducing Our Trip Intelligence Suite, press.priceline.com, accessed August 2023.
4 Shell, Accenture and Amex GBT launch one of the world's first blockchain powered digital book-and-claim solutions for scaling sustainable aviation fuel (SAF), shell.com, accessed August 2023.