In brief
Our January 2023 report Accelerating Europe's path to reinvention revealed a critical problem: companies are underutilizing technology to drive value and growth.
Addressing Europe's technology deficit requires focused actions on multiple fronts to turn the tide.
These actions will unlock opportunities and position European companies as leaders in key industries.
Reducing the tech deficit: a growth dividend awaits Europe

Our January 2023 report, "Accelerating Europe's Path to Reinvention", highlighted how - and why - European companies trail their North American (NA) and Asia Pacific (APAC) counterparts in revenue growth. According to our study, one factor weighing down the growth prospects of European businesses is an inadequate adoption of technology, what we call the "tech deficit".
While our latest analysis shows that Europe's revenue growth forecasts are improving today, it also confirms that the tech deficit remains entrenched, risking a return to a relatively weak economic growth in the long-term.
What is the tech deficit?
We use the term "tech deficit" to refer to the disparity in adoption, implementation or effective use of technology (both established and leading-edge) to create business value.
This goes beyond the size of technology investments and encompasses leadership, skills, prevalence of digital business models and the absorptive capacity of organizations to create value from technology.
Addressing the technology deficit
Companies that fully embrace a digital core as the foundation for total enterprise reinvention will gain a significant competitive advantage. The potential benefits for European companies are substantial, amounting to a staggering $3.2 trillion in additional revenue by the end of 2024.
It's not just technology firms that stand to benefit. The biggest opportunities exist for industries such as retail, life sciences, mobility, and insurance, where technology can help create new revenue streams with smarter products and services and more efficient operations across Europe.
Europe's situation is unique. It draws on extraordinary diversity, a rich tapestry of cultures and strong national policymaking. But it also benefits from synergies, cohesion and unity of the EU's single market. Any growth strategy for Europe must consider its distinctive set of circumstances. Five stand out, each requires a nuanced approach.
Designing a strategy that works for Europe
1.
Economic and technological dependency. Europe is an economically interconnected region, heavily reliant on export markets, tech and component imports, also natural resources.
2.
Shrinking workforce. The share of working-age people (20-64 y.) in the EU's total population is projected to decrease from 59% in 2022 to 50% in 2100.
3.
Cost of energy. While energy prices have returned to pre-war levels, energy prices in Europe are up to 5x higher than in North America.
4.
Aiming for strategic autonomy and harmonization through a series of regulations, but also by creating a level playing field across all its 27 Member States.
5.
Strong focus on sustainability becoming the first continent to eliminate as much CO2 emissions as it generates by 2050 under the Green Deal.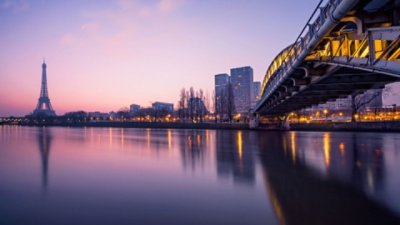 Three focus areas to bridge the technology deficit
Build the digital core to reach new performance frontiers
Extend the advantage in smart manufacturing 
Increase the technology quotient at the top
1. Build the digital core to reach new performance frontiers
European companies need to be ambitious—not only about optimization, but reinventing every part of their business, centered around a digital core and new ways of working that establish a culture and capability for continuous reinvention.
According to data from independent technology analyst firm IDC, both Europe and APAC are behind the US. Europe and APAC are at comparable levels in some areas such as cloud and big data. Its overall investment in technology is lower than that of the United States, but its investments in IoT and 3D printing are on par.
Figure: Where Europe stand on IT spending ( in $, 2023)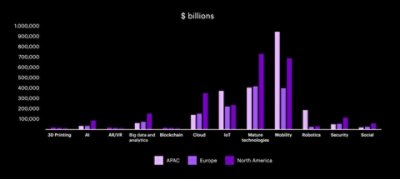 European needs to invest in technologies that have special relevance to its core industries, such as AI, 3D printing for manufacturing and IoT for smart cities and clean power.
Cloud serves as an essential enabler of upcoming technologies (generative AI, quantum computing, etc.), positioning European companies for future growth.

Notably, AI investment rates are climbing in Europe. AI, especially generative AI, has taken the world by storm: ChatGPT reached its first million users in only five days. Embracing AI offers European organizations the opportunity to drive innovation, improve operational efficiency, deliver personalized experiences and gain a competitive advantage in today's rapidly evolving business landscape.
Companies that build a strong foundation of AI by adopting and scaling it now, where the technology is mature and delivers clear value, will be better positioned to reinvent, compete and achieve new levels of performance.
A total of 98% of executives globally agree that AI foundation models will play an important role in their company's strategy in the next 3-5 years.
To capitalize on the AI revolution and foster growth, European companies should prioritize building a strong digital core, including cloud migration, strategic data and application transition to cloud-based environments and the establishment of a modern enterprise data platform. This foundation will enable the harnessing of generative AI and other emerging technologies, while ensuring compliance, security and interoperability across the organization.
2. Extend Europe's advantage in smart manufacturing
With a strong digital core in place, European companies can build on it by innovating to further their strengths in smart manufacturing, supply chain and operational effectiveness. European companies need to invest in the digital business models of tomorrow, today.
Currently, they trail industry peers in long-term research and development (R&D) investments into emerging areas and patent activity.
R&D investments are critical to innovation, enabling companies to improve their products and services and remain competitive in the market. Patents, meanwhile, are an important gauge of innovation activity and direction.
The cumulative R&D gap mentioned in our January 2023 report, Accelerating Europe's path to reinvention, has increased significantly based on our new research.
110 bps
In 2021, there was a 110 bps (basis points) gap between Europe and North America in R&D spending as a percentage of revenue.
140 bps
In 2022, the bps gap widened to 140 bps.
When it comes to patent activity, European companies exhibit considerably lower investment in AI compared to their North American or APAC counterparts. This gap widens even further for generative AI.
However, R&D in hard sciences opens opportunities for European companies. Recent strides in advanced digital technologies, such as AI, have precipitated progress across scientific domains. At the same time, scientific breakthroughs are propelling technological advancements. This symbiotic feedback loop between science and technology can be Europe's calling card—if it can make the right investments and build the right partnerships.
By investing in R&D, forging partnerships, and exploring new business models, European companies can position themselves as leaders in digital intelligence, fostering resilience, productivity and sustainability throughout their operations.
3. Increase the technology quotient (TQ) at the top
To fully harness the potential of technology and drive innovation, companies need to ensure that they have the technology leadership, mindset and expertise necessary to make informed decisions and guide the organization on how to create value from technology. We call this capability "technology quotient (TQ)": having enough knowledge about technology to gauge, analyze and envision how it can propel the organization forward.
The need for technology skills extends beyond IT departments and is essential across the enterprise and all functions.
This is a major development area for most global companies, but more so for European businesses. While European board members seem to have a comparatively high level of confidence in the availability of technology skills in Europe, there seems to be much lower representation of technologists on boards.
It isn't necessary for companies to over-represent deep tech experts in boards. However, increasing the TQ of existing board members will enable them to evaluate potential risks and opportunities, assess the feasibility and impact of technological investments and make informed choices that align with the company's overall objectives and vision.
European companies must prioritize building their technology quotient by enhancing the technological expertise of board members and executives through mandatory training, setting measurable learning goals and promoting gender diversity to tap into a wider talent pool for technical expertise.
Only 14% of board members in the largest European organizations possess the expertise or background to drive tech-augmented business strategies, compared to almost 22% for North America
Conclusion
Addressing Europe's technology deficit requires focused actions on multiple fronts. Our research shows progress in key areas, dispelling the notion that Europe's global competitiveness is on the decline.

But to build new growth, European companies should invest in enterprise-wide technology dissemination, digitize operations and supply chains, innovate with digital services and business models, rethink data strategies, embrace generative AI and increase the technology quotient of leaders.

These actions will help close the technology deficit, unlock opportunities and position European companies as leaders in key industries.