The problem
Consumption isn't working. We need to reinvent it.
Despite efforts to connect people with sustainable consumption, it's still not mainstream. Recent research from Accenture Song's Sustainability Studio — the first phase of a two-year study — identifies a Relevancy Gap between the way that organizations and people approach sustainability.
Three out of five people do not strongly resonate with the idea of living sustainably.
This lack of relevancy places a low ceiling on the impact of sustainability efforts, making it difficult for organizations to drive meaningful human connections and widespread action.
Source: Accenture Our Human Moment Sustainability Survey 2022 (n=8,000).
Introducing a life-centric approach
In a new study, we didn't start with 'the S word'. Instead, we started with what matters to people.
We set out to understand what makes sustainability relevant and actionable to people across the globe. To do so, we put aside notions of what 'sustainability' means, who is interested in it and who isn't, what sustainable behaviors look like, and what needs to be solved.
The research encouraged many people to adopt new or strengthen existing sustainable habits and identities.
But we also discovered something that helps to explain the lack of mainstream sustainability.
The people we met don't think about sustainability the way organizations do. Moreover, they think so differently that they rarely think about organizations at all.
We call this disconnect the Relevancy Gap.
Stop asking: How can we make humans more sustainable? And start asking: How can we make sustainability more human?
The solution
Closing the Relevancy Gap presents an opportunity to reinvent what organizations are and how they impact the planet and people's lives.
This shift will require a complete transformation of our approach to sustainability – changing the relationship between people, sustainability, and organizations.
We need to rethink how we define sustainability, connect with people, and stimulate change.
In doing so, organizations could make sustainability more relevant and actionable, which could mobilize over 4.5 billion people more strongly.
Source: Accenture Our Human Moment Sustainability Survey 2022 (n=8,000).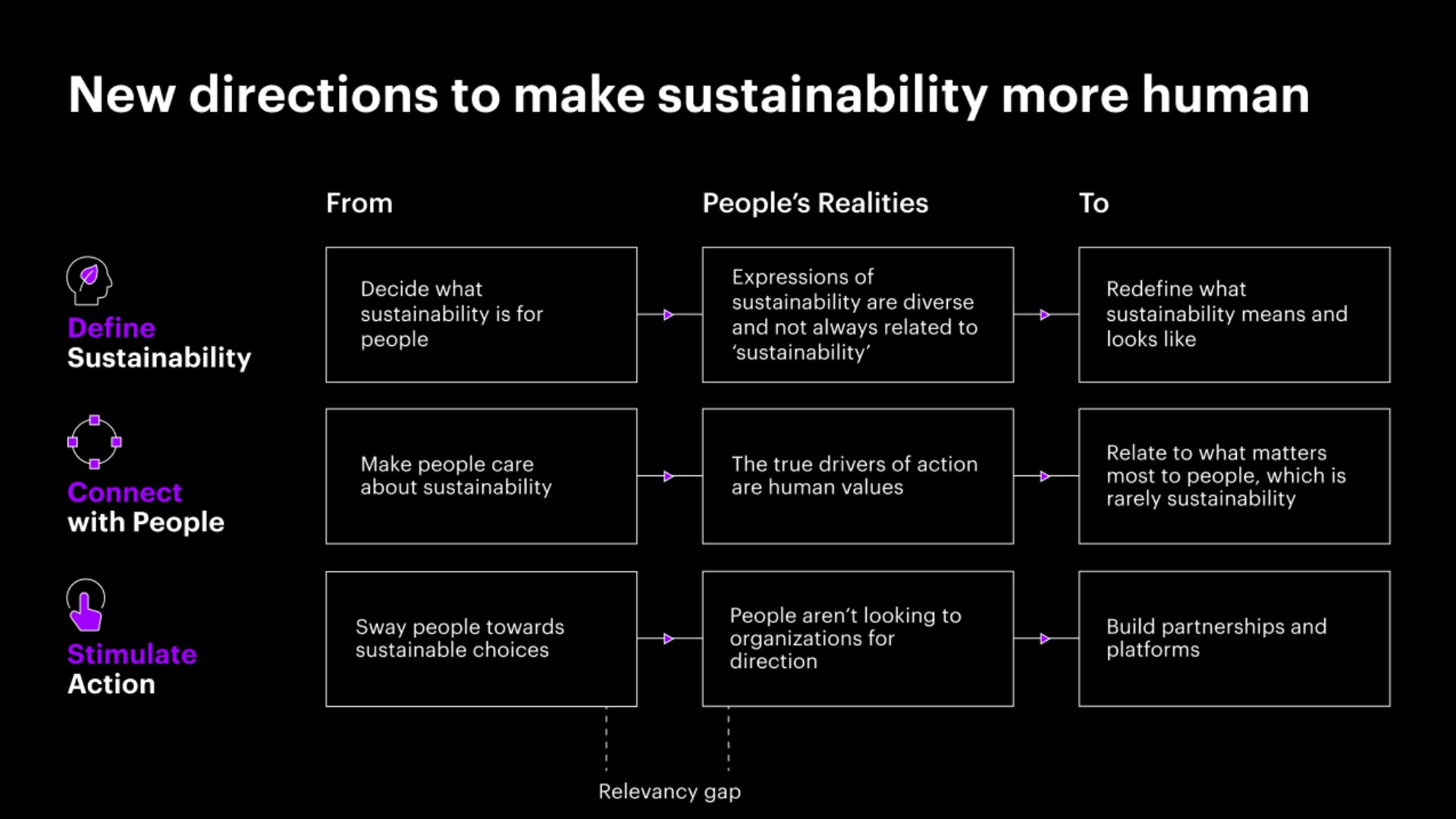 If you're thinking this calls for a total overhaul of how organizations – we – approach sustainability, you're right. It's a big task, but an important one.
A place to start
Connect with people's values, reach a wider audience, and create more powerful routes to sustainable action by using our unique Life-centric Entryways framework.
When it comes to building sustainable habits, our research indicates that the most effective approach doesn't start with sustainability at all. What takes precedence? Core human values such as connection with others, caring for loved ones, and fighting for the causes that matter to us.
These values aren't just words. The Six Entryways enable organizations to identify more impactful ways increase the relevancy of sustainability offerings, and diversify the opportunities to drive action. Here's a sneak peek:
1
Belonging: Pursuing a sense of acceptance, support, and connection in the communities in which we live.
2
Empowerment: Protecting and standing up for the causes and communities that matter most to people.
3
Caring: Looking after ourselves, our loved ones and the places or things that hold meaning for us.
4
Self-fulfillment: Seeking to survive and thrive by taking steps to protect our well-being, security and status.
5
Openness: Striving to discover, experiment, and learn how things could be different.
6
Resourcefulness: Maximizing the value or use of what is available to us.
The case for action

Closing the Relevancy Gap will deliver relevancy, revenue and resiliency.
To achieve our sustainability goals, including scope three emissions, organizations will need to put people at the heart of the systemic sustainability challenge – inaction is not an option.
The good news is, by placing humans as the organizing concept, sustainability will deliver:
Relevancy: connecting with more people and driving long-term brand relationships
Revenue: expanding and diversifying avenues to sustainable value generation
Resiliency: guaranteeing the efficacy of sustainability efforts and ensuring the long-term viability of organizations
Together, we can lift the ceiling on sustainability.
This is Our Human Moment.
Thank you for reading part one of our three-part study
In the first phase of a three-phase project, Accenture's Sustainability Studio conducted ethnographic research with 33 people across eight countries over eight months.
We also engaged with academics, musicians, and entrepreneurs, and conducted a semiotic analysis of various organizations' communications and media.
Part 1: Understand
Ethnographic and semiotic research
Outcome: a life-centric approach to sustainability.
Part 2: Validate
Quantitative survey and modelling
Outcome: A validated case and framework for human-centered sustainability.
Coming later
Part 3: Prove
Behavioral design experiments
Outcome: A proven methodology for driving sustainable action.
Coming later
About Accenture Song's Sustainability Studio
Accenture Song's Sustainability Studio reinvents and scales sustainable models of consumption through human insight and creativity, combined with Accenture's ability to scale sustainable solutions.
The Studio is a global practice of over 30 sustainability, business, and life-centricity experts, bringing together creativity, design, anthropology, and strategy to reinvent the relationship between organizations, people, sustainability, and consumption.