The 21st century has just begun. Yes, the calendar may show we are 20 years in. But future historians will agree that 2021 was pivotal—the year the full impact of the COVID-19 pandemic was felt. Industry had no immunity to the upheaval and supply chain disruption was the norm.
Like the ever-adapting virus, industry is also mutating. The current health crisis coupled with the 2008-2009 financial crisis is ending the 20th century deindustrialization that led us to economic and social failure. The industry leaders I speak to every day know their companies need to grow stronger and their supply chains more resilient. They know they need to transform to remain viable. But what they really want to know is how to thrive—not just survive—as we start this new, somewhat delayed, century.
I wrote my new book, Industry of the 21st Century, to provide the insights to help companies thrive. And I'm excited to share some of my thoughts with you here.
What's different about the 21st century?
Industrial renewal is breaking last century's models, as 21st century dynamics are quickly overtaking longstanding standards: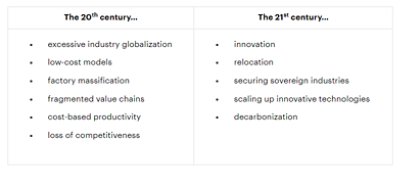 This is the paradigm shift the industry is facing. At the current pace of change we are 10-15 years away from getting into the right column.
It can be a steep climb to catch up to the new reality of industrial sovereignty, relocation and decarbonization, powered by the digital revolution. But post-COVID we have an unprecedented opportunity to restore a more productive balance and make more sustainable choices for society.
Deindustrialization has led to economic and social failure, increased dependence in all sectors, a collapse of the employment pyramid and an endemic deficit, excessive globalization of industry and fragmented value chains.
What is the new post-COVID paradigm?
Industry of the 21st Century answers this question. It helps leaders understand the current industrial landscape and how we got here. More importantly, it provides a new paradigm for future success that is based on the characteristics of tomorrow's industrial champions: agility, resilience, and sustainability.
Tomorrow's companies will have to be agile to reconfigure quickly. Resilient to cope with market volatility. And responsible in their environmental and social impact. This is quite different from the classical industrial company of the 20th century.
Achieving all three simultaneously is certainly possible—but it requires a lot of new capabilities. In fact, the research behind my book documents the seven capabilities companies need to implement to become future champions of industry:
Service - Move from product service to product-as-a service.
Design - Design right the first time, faster and quicker.
System - Build up a flexible, balanced industrial system.
Data - Build up a flexible, balanced industrial system.
Human - Help humans improve work quality and capabilities.
Sustainable - Eco-design products and processes responsibly.
Agile - Create an agile organization with multi-functional teams.
Here's the trouble: established companies are only 40-50% scaled up on these seven capabilities—and that has to change. Companies that cannot implement these capabilities will not survive. A legacy player moving too slowly toward 21st century transformation? That player will be gone in the future. Start-ups or more agile competitors will eliminate it.
The bar to entry for industries is getting lower. Previously impossible start-ups are now creating complex products. They have built their organizations on the foundation of these seven capabilities, and technology will get them to the next level. These start-ups will soon be industrial champions.
Supply chain innovation also plays a critical role in this industrial renewal. Accenture research shows how important the supply chain is to an organization's success. Becoming an industrial champion of tomorrow will require a reinvention of the company's operational backbone to create an agile, resilient, and responsible supply chain. Companies—and countries—will then be able to overcome the supply chain dependencies that I've long been concerned about.
As France goes, so does the world (in industry)
France is my country of origin, so I'll share my work there to demonstrate these problematic dependencies. Like much of the industrialized world, France suffers from excessive globalization of industry and fragmented value chains, an endemic deficit, and a negative trade balance. The employment pyramid has collapsed, leaving people behind.
Industry is part of the problem. One example: We assessed the strategic products that have a long value chain—important products for which France is very dependent on other countries—and identified roughly €100 billion worth of imports that are essential for telecommunications, hospitals, safety, defense, etc. This fragile and vulnerable supply chain is a major risk for France.
The United States and other industrialized countries face similar risks. While I zoom into French industry in my book, the insights I share apply to the global audience. It's imperative that we make industry part of the solution.
We can strengthen industry for tomorrow
Change is hard at the best of times. As industry continues to mutate, adapting is even harder. But transformation is within reach.
I wrote this book to help companies achieve 360-degree transformation and build the capabilities that will strengthen industry and the future supply chain. My overarching goal, though, is to enable leaders to implement change that is better for people and the planet—and helps them become the champions of 21st century industry.
Ready to learn more? Get your copy of Industry of the 21st Century in French here. And get in touch to discuss how you can transform your company and supply chain.