Careers
See why we vaulted to No. 6 on the list of 'Best Companies to Work For'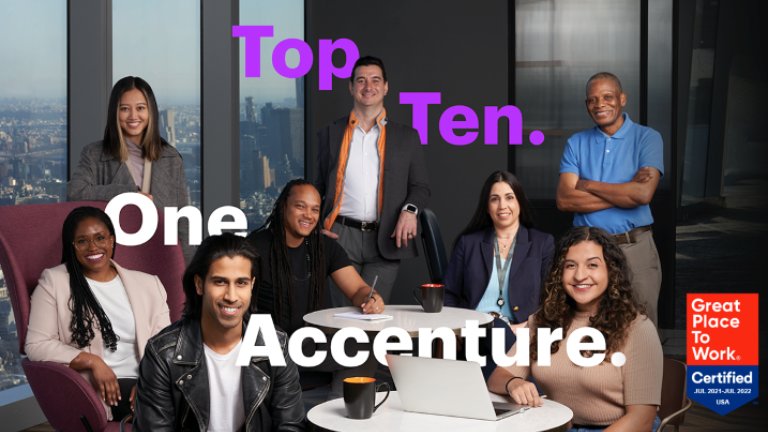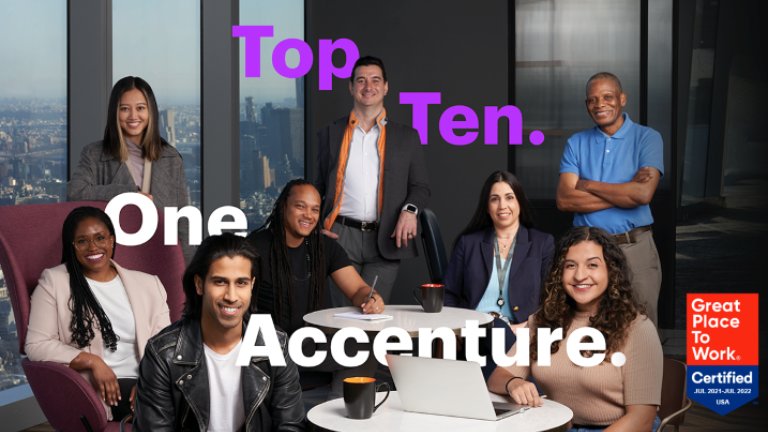 A great place to work starts with great people.
Thanks to our incredible people around the globe, we're recognized as a Great Place to Work® in nine countries—making it to the top 10 in seven of those countries and vaulting from number 44 to number six on the list of FORTUNE's 100 Best Companies to Work For in the US this year.
These milestones are a tribute to ALL our people—ones we could have only reached together. The deep care and compassion they show each other and our clients, along with our ability to create value while leading with values, is at the heart of our culture.
Seeing people as people
When the pandemic hit, the whole world had to pivot, adapt and reinvent—fast.
It was a great reminder to companies to focus on their people as people, each with their own unique needs.
This year's FORTUNE list recognized U.S. organizations "where the employee experience is astoundingly as strong as it was pre-pandemic."
Top companies were recognized for their efforts to foster inclusivity and purpose; pivot and adapt to ongoing challenges brought on by the pandemic; and most importantly, take action by focusing on what each employee needs rather than implementing broad policies.
Here are a few reasons we're in the top 10:
We care. We care deeply for our people, personally and professionally. We listen to our people and recognize them as their whole, authentic selves, inside and outside the office. We ask a simple question: are people "net better off" because they work at Accenture? We know it's not just about great rewards and benefits, but also about fostering an inclusive, empathetic, respectful culture and supporting our people, their families and their communities.   


Our people are empowered to be themselves. We encourage our people to be who they truly are and bring their whole selves to work. We're committed to creating a culture of equality and offering inclusive, equitable opportunities for our people to advance and grow. It's why we've also been recognized as number one on DiversityInc's 2022 Top Companies for Diversity list and as the highest-scoring company on this year's Bloomberg Gender Equality Index.


We're prioritizing well-being. Home and work boundaries blurred during the pandemic, and people were under pressure like never before. Mental health and well-being have taken center stage, with our new chief health officer at the helm as part of our commitment to our people's overall well-being. We're offering leading mental resilience training and tools to support our people's whole health; we even recently rolled out a new grief and loss support program offering counseling services and resources to team members coping with loss.


We provide unrivaled learning opportunities. Our focus on continuous skill development ensures our people remain highly relevant, with vibrant career opportunities. We invested $900 million globally in learning and professional development last year, and through initiatives like our Apprenticeship Program, we're focused on shaping new career pathways within our organization.


We help our people stay connected. Having a sense of belonging and connection is important. We're creating "omni-connected experiences" so people can connect and contribute, regardless of their physical location. This year, 150,000 new joiners around the world will come together on the "Nth floor," our enterprise metaverse, to experience our culture in a meaningful, personal way. We're also helping communities stay connected through initiatives like the Black Founders Development Program, providing Black tech entrepreneurs with opportunities to grow their business.


We're committed to a sustainable future. We're committed to reaching net zero by 2025. How? By planting 674,000 trees (one for each of Accenture's people globally, as of December 2021); meeting office energy needs with 100% renewable electricity by 2023; and investing in nature-based carbon removal solutions that are projected to physically remove more than 13 million metric tons of carbon from the atmosphere over the next 20 years.


We take action. How do we know what matters to our people? We ask them. And we don't just listen to our people; we take action. Instead of implementing new policies across the board, we focus on how to best support each person's individual needs. From our Employee Resource Groups (ERGs) and mental health programs to elder and child care resources, we're creating a workplace that works for everyone.  


Be valued for who you really are and do work that's changing the world, every day.