Blog
Are you ready for close encounters of the virtual kind?
3-minute read
November 30, 2020
It's more than six months since the global pandemic hit and I didn't realize how much I'd miss bumping into my colleagues in the halls and the breakroom. You know, the way a chance conversation can solve that problem that's been bugging you for days or introduce you to someone who can change your whole career path. And the idea of getting together in a big group is seeming a bit alien, too—I miss the ideation and energy that came from those kinds of sessions. Although remote working and virtual meetings help to keep industry wheels turning, the feeling is not so much "Beam me up, Scottie" as "I'll go anywhere as long as it's outside of my home office" right now—and actually, I think Accenture might have just the answer to fix those serendipity and innovation shortfalls.
In my current role, I'm responsible for driving next-generation digital experiences across our key stakeholder groups—whether that's our own people, our clients, ecosystem partnerships or acquisition teams. As the largest enterprise user of Microsoft Teams, we already make use of its versatility and scale, but there's always room for virtual meetings and events that are more fun, collaborative and interactive—as well as creating environments where spontaneity can flourish.
With more than half a million people worldwide, Accenture has embraced video communications and broadcast events. And as we transition physical meetings into virtual events these have increased rapidly, so that we now stream 4M minutes of broadcast video a month and play 44,000 videos each month. It got us thinking about how we could experiment with a whole host of other solutions. So, for instance, Accenture has created an Immersive Collaboration Platform (ICP) out of Accenture Labs. It's an extraordinary multi-user, cross-platform meeting solution, with public and private meeting rooms. We can showcase our expertise in the Extended Reality (XR) business here—and it's a great place to co-create and prototype solutions for our clients.
The future of collaboration

Working closely with Microsoft and AltspaceVR we have devised a concept we call "The Nth Floor." It's a mixed reality experience that enables people to interact with each other in person, regardless of geographic separation. Whether using it to host a virtual coffee break, conduct training, or host important all-hands meetings, the Nth floor is a versatile, customizable, and scalable solution for bringing a geographically distributed workforce together. In short, it helps our people to be there without physically being there—even when we return to our own offices.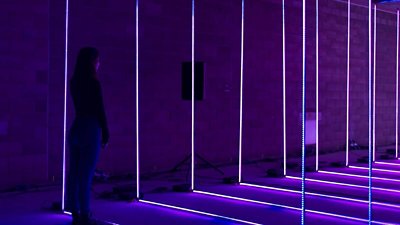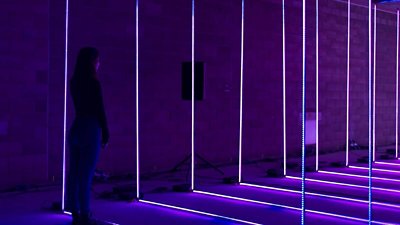 The virtual space was initially built for an Accenture Nanolabs conference, which enabled leaders of geographically fragmented groups to collaborate and develop a more cohesive structure. Users, co-located with each other as a group, are able to collectively experience the space from a conference room or in an immersive environment like one of our amazing Igloo rooms. For a fully immersive experience, people can wear a Virtual Reality (VR) headset and effectively teleport into the world. And there are plenty of ways you can present information—playing videos, infusing slide decks or overlaying yourself onto presentations through TouchCast Studio and TouchCast Pitch.
The great thing about virtual meeting spaces is their versatility—whether running an event to recruit students or onboard employees, showcasing new tech or hosting training or roadshows, the virtual environment can adapt to suit. One of our VR experts has been using the Nth Floor to host a virtual fireside chats every Tuesday for our people or clients and partners. He's involved third-party experts in discussing topics like "challenges with virtual events," and the "future of broadcasting in virtual reality" with lively Q&A session followed by professional networking.
I believe the future of meeting and working together is going to be a combination of physical and virtual events, with these extra places for folks to casually convene in a virtual setting. We've been thinking about how this broader approach can help the enterprise even more; for instance, by creating easy-to-use templates that enable business teams to quickly create their own spaces and experiences and design customized events.
Recently, I had the opportunity to sit down and share what we're doing in this space with Joanna Stern from the Wall Street Journal. I am excited by how much innovation is happening. We're pushing to evaluate and deploy these technologies safely and securely to address the ever-changing demand for something new and different—and I encourage you all to have more close encounters of the virtual kind.