High tech companies know better than most the value of supply chain visibility. In fact, their business model, which relies heavily on outsourcing, requires them to know what every contract manufacturer and supplier at every tier is doing, and where every component is at every step of the supply chain at any given time.
But in today's highly disruptive environment, this kind of knowledge—while important—is no longer enough. As we point out in our new report, "Do you have the full picture of supply chain resilience?" companies (and especially those in the high tech industry) need to excel in capabilities that do more than just give them a snapshot at a point in time or over a period of time. They need capabilities that can help them understand much more—including what might happen in the future, how events could affect their supply chain, and what actions they should take to keep their operations running smoothly.
The value of structural and dynamic visibility
In our report, we distinguish between two types of visibility—structural and dynamic (see figure).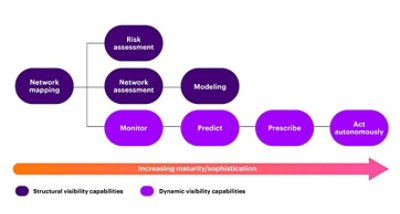 You could think of structural visibility as an X-ray that gives a company a snapshot of its operations at a point in time or over a certain period and helps uncover hidden issues. Structural visibility includes such traditional activities as network mapping, risk assessment (e.g., classic risk management), network assessments, and modeling. Typically key to greater structural visibility is a digital twin—a virtual supply chain replica of a company's operational backbone. With a digital twin replicating the typical behavior of a supply chain, a company can use advanced analytics to simulate and scenario model its supply chain's performance and stress test its supply chain for risks and vulnerabilities. Such visibility is critical to preparing for disruptions.

High tech companies have generally excelled in structural visibility, and some have been relying on it with more frequency during recent disruptions.
Ten years ago, we were updating our network map probably every week, right now, it's gone to every day.
If structural visibility is an X-ray, dynamic visibility is more like a video that enables a company to monitor and respond to events in real time. Dynamic visibility, typically generated with the help of a supply chain control tower, is a progression of increasingly mature capabilities that help companies see where products are across the supply chain, how plants and warehouses are running, when and where disruptions are occurring, and what to do in response.
While less pervasive than structural visibility, dynamic visibility—especially monitoring—is growing in use among high tech companies. Indicative of this is the response another high tech executive in our research provided: "Internally we have an end-to-end control tower, so that way we monitor the real-time shipment information from the supplier side to the customer side. We can have a real-time monitoring of the situation and if anything potentially went wrong, the system will send an alarm. Then we'll take some proactive action to prevent the issue from impacting customers."
Even greater benefits are possible with increasingly mature visibility capabilities that can help high tech companies not only predict what might happen, but also prescribe the optimal actions to take. The holy grail of dynamic visibility is achieving autonomous execution, where a control tower leverages artificial intelligence/machine learning and robotic process automation (RPA) to independently act on real-time supply chain signals to capitalize on opportunities and minimize the impact of disruptions. Like other organizations, high tech companies still have a long way to go in this area. But we're starting to see limited application, as one high tech executive noted. "In very random cases we use robotic process automation," the executive reported. "So there is already some logic built in to say, if you find this kind of delay, then the RPA will follow the logic to send some email to some people. But that is just a starter, not fully automated."
Dynamic visibility ultimately would be required for future growth competitiveness
Our research found that executives believe in visibility—mainly because it works. Our analysis revealed that companies with greater visibility are also more resilient, better positioned to weather all kinds of storms. What does this mean for the two types of visibility?
For starters, structural visibility is now a requirement. Every company should, with the help of digital twins, have the basics such as network mapping, risk management, network assessments, and scenario modeling in place. Paired with advanced analytics, digital twins can help companies go to the next level—especially in terms of end-to-end visibility and simulation.
But structural visibility isn't enough—advanced dynamic visibility should be the target. Predictive visibility and autonomous execution, achieved with a sophisticated control tower, are the keys to the kind of deep resilience supply chains would increasingly need to drive growth and competitiveness in the future. Without it, companies are in danger of losing market share and eventually disappearing entirely.
That said, full visibility across the supply chain isn't economically feasible, nor is it necessary. Companies should focus on the really important areas of the business, recognizing they won't be able to scale up dynamic visibility in the same manual way they've approached structural visibility. It would take an investment in the right tools to harness critical data across the supply chain. But the ultimate payoff—a supply network that never flies blind or gets caught off guard—would be more than worth it.