Blog
4 ways the metaverse will benefit supply chain networks
5-MINUTE READ
May 31, 2022
The metaverse is here, and it promises to change the way the world works and lives. This next evolution of the internet will fuse the digital and the physical. It will enable people to come together from anywhere in a new, shared experience. For businesses, that means new ways to simplify customer lives; anticipate and predict market changes and associated risks across the supply chain network; and manage business performance and decisions based on a balanced view across growth, profitability, sustainability, and diversity and inclusion.
That's the metaverse in action, and supply chain leaders see the potential. According to our 2022 Accenture Technology Vision research, about two-thirds of supply chain management executives think the metaverse will have a positive impact on their organization. Let's look at how.
Trend #1: WebMe: supply and demand, transformed
The metaverse is bringing together what customers want with what companies have. By providing better visibility into processes, facilities, inventory and capacity, it is helping companies remove supply constraints. By providing an increased understanding of what customers want, it makes demand fully "knowable." Getting insights from both sides could help harmonize supply and demand.
Take the example of a metaverse "collaboration room" for a retailer and its suppliers. Teams could gather virtually in this room to review expected sales forecasts, projected production plans and possible supplier limitations that could affect manufacturing volume. They could also see, on an immersive supply chain network map, exactly where inventory is, virtually walk through key ports to identify possible shipping delays because of congestion, and model possible alternatives to keep products moving to the right stores and shelves.
Trend #2: Programmable world: products, evolved
In the metaverse, people will design their environments to meet their needs and expect seamless digital and physical navigation. These changes will pave the way for richer interactions in a new kind of world.
For example, imagine an aluminum beverage can that "knows" two important things about itself: its location and its inventory status. Using edge computing, the programmable can could trigger automatic replenishment and routing decisions. This solution would ensure customers get the product when and where they need it. The solution could also help shape demand and automatically adjust prices based on changes in what customers want—which would enhance margins and overall profitability.
Trend #3: The unreal: perfect data, realized
In the metaverse, data will likely take on a new meaning because AI will be able to generate synthetic content that's "perfect data." Such data does not have historical context; therefore, it can be instantly adapted to the current situation.
For instance, during the pandemic, companies couldn't accurately forecast supply or demand. They were banking on past data to get them through an unprecedented situation. The same holds true for data from the pandemic years (2020–21), which cannot be used to forecast for 2023 and beyond. With AI-generated synthetic data, companies can develop forecasts that perfectly reflect where they and the market are at that moment.
Trend #4: Computing the impossible: the unsolvable, solved
Emerging machines are helping address the limits of current computing power. These machines will enable supply chain networks to improve processes, plans and inventory. Using the new compute capability, companies will be able to reduce costs, better meet customer demands, and drive greater resilience and sustainability.
For example, with previously unimaginable computing capacity and the metaverse's ability to "bend the time and space continuum," companies can get rid of the gap between supply chain planning and execution. They will be able to view the entire supply chain network—from suppliers to end customers—to continually balance supply and demand in real time. This kind of power will be especially needed to take advantage of the metaverse's ability to bring in increasingly more granular customer and supplier data.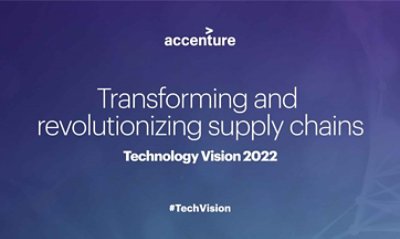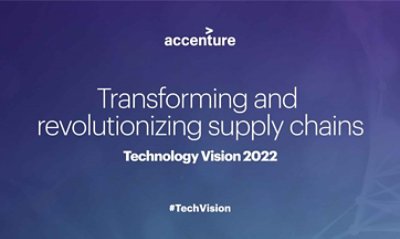 Reimagine supply chain networks with the metaverse
The technologies behind the metaverse aren't new. In fact, leading companies have been gradually introducing them into their business. For example, they have been using augmented reality to enhance the planning process and supply chain digital twins to model manufacturing operations. These technologies are now maturing and being more widely used. With the increase in their use case, they are set to change how supply chain networks work.
The supply chain network is at the point where the physical and the virtual worlds meet—and that's where the metaverse lives. The potential the metaverse provides will be tremendous. It's now time for supply chain executives to begin thinking about how their organizations can make it real and exploit the benefits. Is your supply chain network ready to take advantage of it?
See more Supply Chain & Operations insights.
For more than 20 years, Accenture has developed the Technology Vision report as a systematic review across the enterprise landscape to identify emerging technology trends that will have the greatest impact on companies, government agencies and other organizations in the coming years. These trends have significant impacts across industries and are actionable for businesses today.