Careers
What you should know about workplace accessibility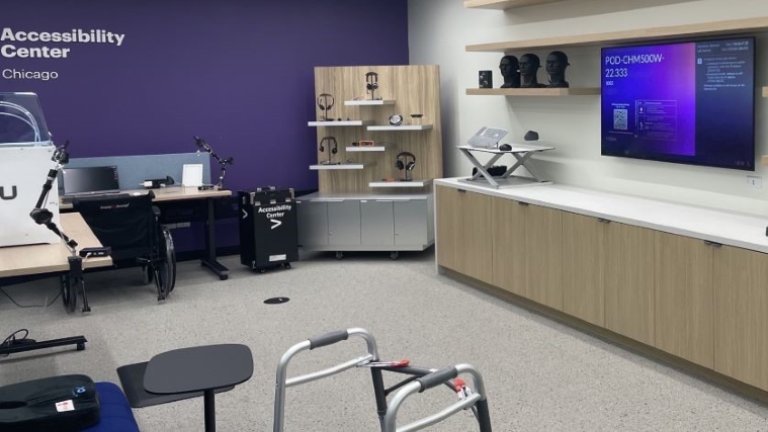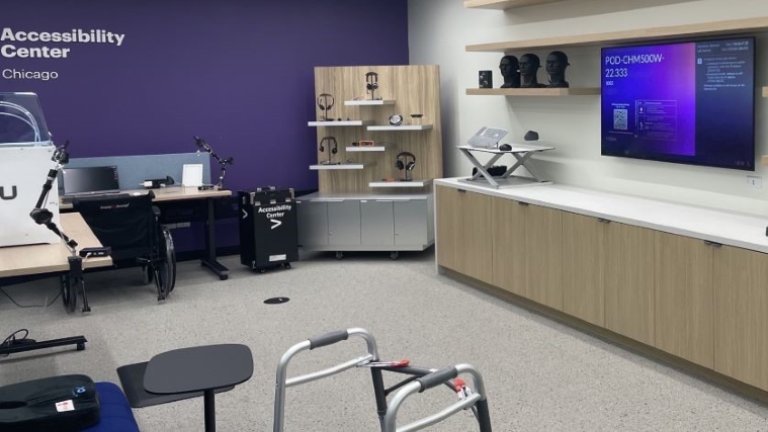 1 billion people around the world have a disability. That's 1 billion reasons to illuminate disability inclusion and why we're creating a workplace where everyone can feel they belong. 
Sarah Cline, Workplace Inclusion & Diversity Lead shines a light on the things everyone should know about the services, accommodations and support that are available for our people and interview candidates with disabilities, whether permanent or temporary, apparent or non-apparent, across the globe.
Creating change with accessibility
Accessibility is a workplace essential. As a person with a hearing disability, I know this firsthand.
Our Accessibility programs provide workplace accommodations, implement inclusive design in our workplaces, offer leading-edge technologies for our people, and encourage technology accessibility with our partners and suppliers. As a result, we help people work most productively, whether they are in an office, at home, at a client site, or on the go.
In our offices we embed inclusive design such as:
Wellness/quiet rooms for our people to take short breaks, practice mindfulness, or manage stress.
Sit/stand desks to support mobility variances and reduce the risks associated with prolonged sitting.
Assistive listening devices to help our people with hearing impairments to participate fully in meetings and conversations.
Global reservation tool providing accessibility details for each workplace, including information on inclusive restrooms, wellness rooms, automated doors and more.
Workplace accommodations for interview candidates too
Our people at Accenture request accommodations including assistive technology, web accessibility, workplace accessibility and more through the Accommodation Support Tool, which is designed to humanize technology and provide accommodations efficiently.
We also have Accessibility Centers – experience zones that provide assistive technology solutions for different needs. These provide a physical space where people can interact with assistive technology and ergonomic equipment and learn from and collaborate with colleagues. We have 40 centers across the globe in Asia, Australia, Europe, North America and South America.
Interview candidates looking to join us can also request for accommodation support via their recruiters. If needed, our accessibility centers can be leveraged during the interview process. 

Diverse solutions for diverse needs
So, what kinds of accommodations are available?
We offer unique solutions that cater to specific needs—from hearing, vision, cognitive, and mobility solutions, to disability prevention technology. For example:
Headsets and speech-to-text technology that help persons with hearing disability participate in conference calls.
Screen readers and keyboards that make typing easier for persons with vision impairment.
AR glasses to empower our employees with mobility disabilities to work comfortably.
Disability prevention equipment such as ergonomic seat cushions, anti-fatigue foot mats and blue light blocking glasses.
We exceed accessibility standards
I believe that it's important for companies to not only meet accessibility standards but exceed them.
Here are a few actions we take to continually strive for excellence:
Talk with internal and external subject matter experts to create and improve processes and programs.
Embed accessibility guidelines in real estate design standards making sure our spaces are welcoming and accessible to everyone.
Develop a mindset of inclusivity where accessibility is always considered.
Actively engage with people with disabilities and other key stakeholders and perform impact analysis.

Organizations need to be creative and agile in supporting their people, especially as needs keep evolving.
Scaling new heights in accessibility
In addition to our ongoing commitment to enhancing our physical network of centers, we are also advancing our solutions to be more innovative and future-focused.
Our mobile Accessibility Centers allow for flexibility and the ability to showcase our capabilities to external partners and local communities. And we're evolving our multi-channel technology support for people with disabilities through generative AI, offered through custom communication tools, accessible content creation, and ergonomic workplace design through 3D printing.
And equally important is our continued education on disability inclusion, taking our culture of equality from strength to strength.

Find your fit with Accenture.
Copyright © 2021 Accenture. All rights reserved. Accenture and its logo are registered trademarks of Accenture.
This content is provided for general information purposes and is not intended to be used in place of consultation with our professional advisors. This document refers to marks owned by third parties.  All such third-party marks are the property of their respective owners.  No sponsorship, endorsement or approval of this content by the owners of such marks is intended, expressed or implied.