When I recently decided to upgrade my television, the amount of research I did is mind boggling. While most TVs have similar features, what pushed me towards a specific model and brand is the way that TV integrated with other multiple systems. I needed to know how compatible it would be with the voice assistant I use; how easy it would be to use multiple streaming subscriptions on the new model and what connections the TV supports. For example, does it work with the multiple new and old systems like Xbox 360, or even old-school Nintendo game player and the old-fashioned screen cast with the laptop? Is it compatible with Apple iPhone if I want to play the content from my phone on the TV?
Phew, so many decisions.
While working on the latest thought leadership: Value untangled, I realized integrations are not limited to our everyday shopping experiences. Integrated enterprise applications are equally desirable for better data sharing, enhanced employee productivity, improved customer experience and driving an innovation agenda in a scalable manner. Sixty-nine percent of the respondents in our CXO survey on enterprise applications reported that they expect future enterprise applications to be highly interoperable.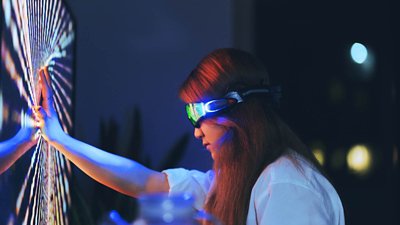 Technology is critical to interoperability
In the case of connected appliances, like my TV, I need to evaluate all the native integrations the TV provides. I also looked at the connectors I needed to use all my existing equipment (like Xbox 360, Amazon Firestick, DVD player, AirPlay support, etc.).
Interoperable applications help leaders identify new revenue opportunities, cost efficiencies, scale innovations (across different functions) and improve employee productivity.
When it comes to an organization's enterprise application universe, they need to leverage technology to make the applications interact meaningfully and enable seamless data exchange. In short, they must make them interoperable. Interoperable applications help leaders identify new revenue opportunities, cost efficiencies, scale innovations (across different functions) and improve employee productivity. Our research highlighted the three top interoperable application benefits as:
reinvented customer experience
better decision making due to more reliable data
promote innovation culture among employees
Out with the old
I decided I needed a new TV because the older one couldn't meet the enhanced entertainment requirements. Something as simple as mirroring my iPhone was becoming a challenge. There were also device-related issues that were beyond repair, like the degraded sound quality.
Similarly, enterprises deal with changes that make their systems less interoperable. For example, uncertainties in the market, evolving customer expectations and even new employee demands from their work environment, like simplified user interface across applications.
Enterprises need access to a single source of data truth for faster decision-making; employees want easy access to data, and seamless experiences across interfaces. And customers want personalized and contextualized service.
If I look at myself as the customer in my hunt for the television, I get personalized recommendations from friends, family, tech articles based on my expectations and aspirations, even for a TV purchase. Of course, I also got targeted ads on my social media feed that add to my knowledge of newer options.
Excellent experiences expected
With blurring personal and professional boundaries, we as employees, expect good experiences in our professional environment like the ones we get as consumers. If I can use Google to search for anything as a consumer, I want access to a similar database in my work environment—one that doesn't rely on drop-down menus to search for information; one that doesn't leave me guessing on where to find what I need. We expect our organizations to use the latest and the greatest technology to make our work lives simpler, more productive and more collaborative. We want our enterprise leaders to help break silos and improve agility. This is only achieved with integrated enterprise applications.
As I make this seemingly simple decision of upgrading a TV, my expectations have evolved significantly from my previous purchase in 2016. What I purchase and how I purchase has also changed. Today, the connections I want to build in my home entertainment systems are the key deciding factor in my final purchase. At the same time, the engagement on various social media has also become targeted with more tech articles on comparison of brand and models, ads and other related content being thrown my way to help me consider various factors that I may have missed initially. Like, the repair and replacement cost of any component.
And as I worked on our enterprise applications research, I realized it's not that different for an organization. When it comes to an enterprise upgrading itself, seamless processes and functions are key to driving true business transformation, creating additional value in meeting customer demands, developing new revenue streams and competing in the market.
At the end of the day, we all want a better experience—as customers and as employees. We expect our organizations to enable it with technologies like cloud and composable tech.