When a group of computer scientists laid the groundwork for artificial intelligence (AI) nearly seventy years ago, they could not have imagined that business leaders today would be asking themselves not whether they were using it but how much. And as businesses embrace transformation, it is being seen as a vital ingredient. As our own CEO, Julie Sweet has said: "cloud is the enabler, data is the driver and AI is the differentiator." Yet it still requires a mindset shift that many have still to make.
In our research, The Art of AI Maturity: Advancing from Practice to Performance, we found that while 75% of organizations have re-worked cloud and business strategies for AI, just 12% have advanced their AI maturity enough to achieve superior growth and business transformation. The research was among 1,600 executives across 1,200 companies and examined their foundational AI capabilities (such as a cloud-first approach, tools, data platforms, architecture and governance) and differentiated AI capabilities (such as having an AI strategy, C-suite sponsorship and a culture of innovation).
We developed a quadrant of AI maturity (See Figure 1) that identified the 12% AI Achievers (companies that have differentiated AI strategies and operationalize for value) in the top quadrant, alongside 12% AI Builders who have mature foundational capabilities; 13% AI Innovators that have mature AI strategies but struggle to operationalize and a massive 63% of AI Experimenters that lack maturity in AI strategies and the capabilities to operationalize.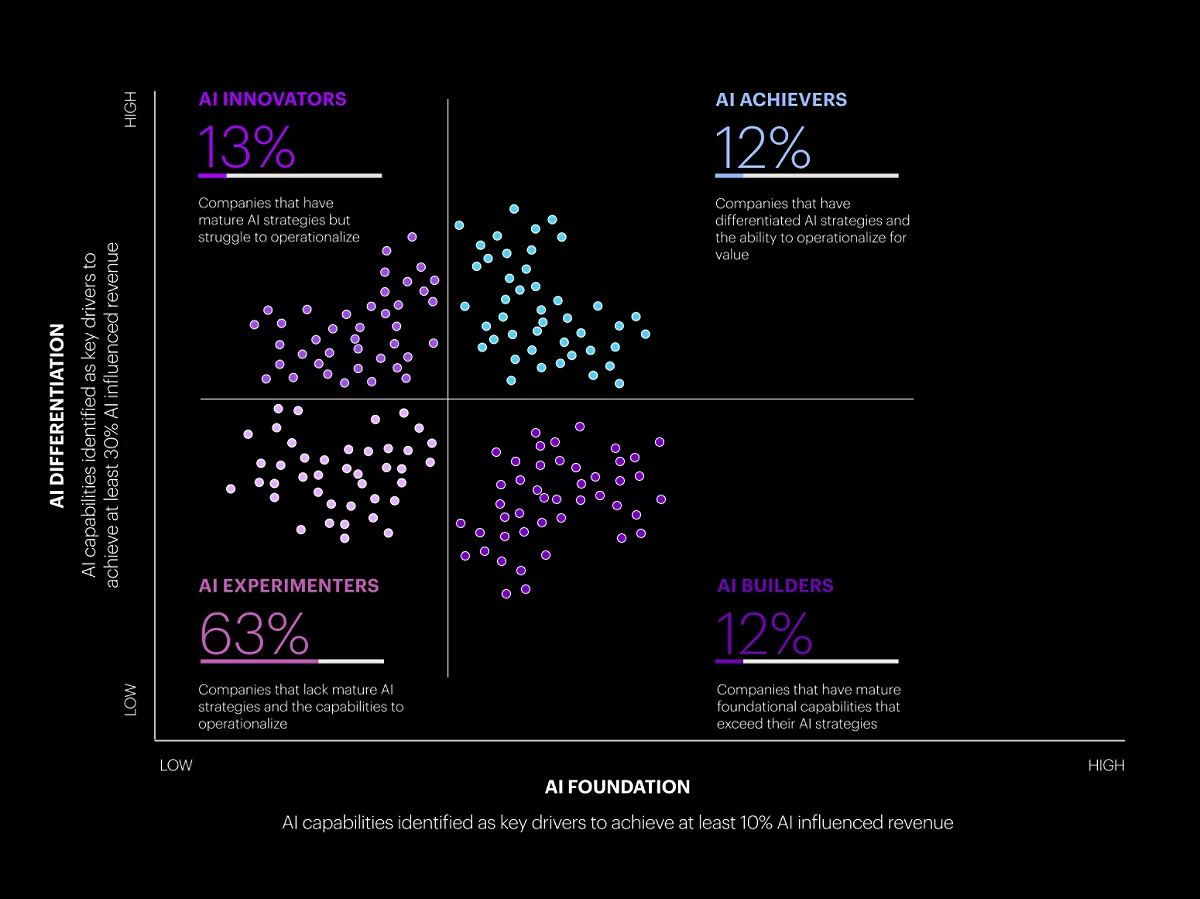 Furthermore, in the world's 2,000 largest companies (by market capitalization) the percentage of AI Achievers was even smaller—at 10%—and that's despite 46% of their CEOs mentioning AI in their earnings calls.
We also discovered that in pre-pandemic times, there was a 50% revenue growth gap, on average, between AI Achievers and the rest of their peers—and today AI Achievers are 3.5 times more likely to see their AI-influenced revenues surpass 30% of their total revenues. Going above and beyond, AI Achievers are deploying AI solutions to solve problems and work on newer opportunities to outpace the competition. It not only sets them apart but reminds us that being on the fringes could severely limit competitiveness in the future.
Operationalize for value
For anyone running business operations today, there are important lessons to be learned from this and some of our other research findings. In two years, the AI maturity research indicates that the percentage of AI Achievers could more than double—from 12% to 27% of companies—and that would translate into newer tech-savvy ways to fulfill orders, acquire customers faster, discover new streams of revenue growth or even drive higher employee engagement levels. Adopting these new ways of working is synonymous with businesses gaining greater maturity in intelligent operations.
Earlier Accenture research identified four stages of operations maturity—stable, efficient, predictive and future-ready. A large proportion (59%) of the 1,100 organizations we surveyed straddle the efficient and predictive maturity stages, moving from automated to an insights-driven approach where they are looking to augment human ingenuity with AI. It is highly likely that companies in these operations maturity stages will choose to invest in becoming AI Achievers as a means to make the big leap to peak performance in their operations maturity journey.
Charting progress
Some industries are ahead of the rest when it comes to embracing AI maturity. In the chart below (Figure 2), illustrating the period 2021 to 2024, the baseline is set slightly above 50 on the X-axis. Alongside the tech sector, there are at least seven industries that will cross the average mark in less than two years. As evident from our research, progress is positive for most. But it's worth remembering, that there's no "finish line"; all companies can continue to improve with time, some faster than others in response to competitive pressures.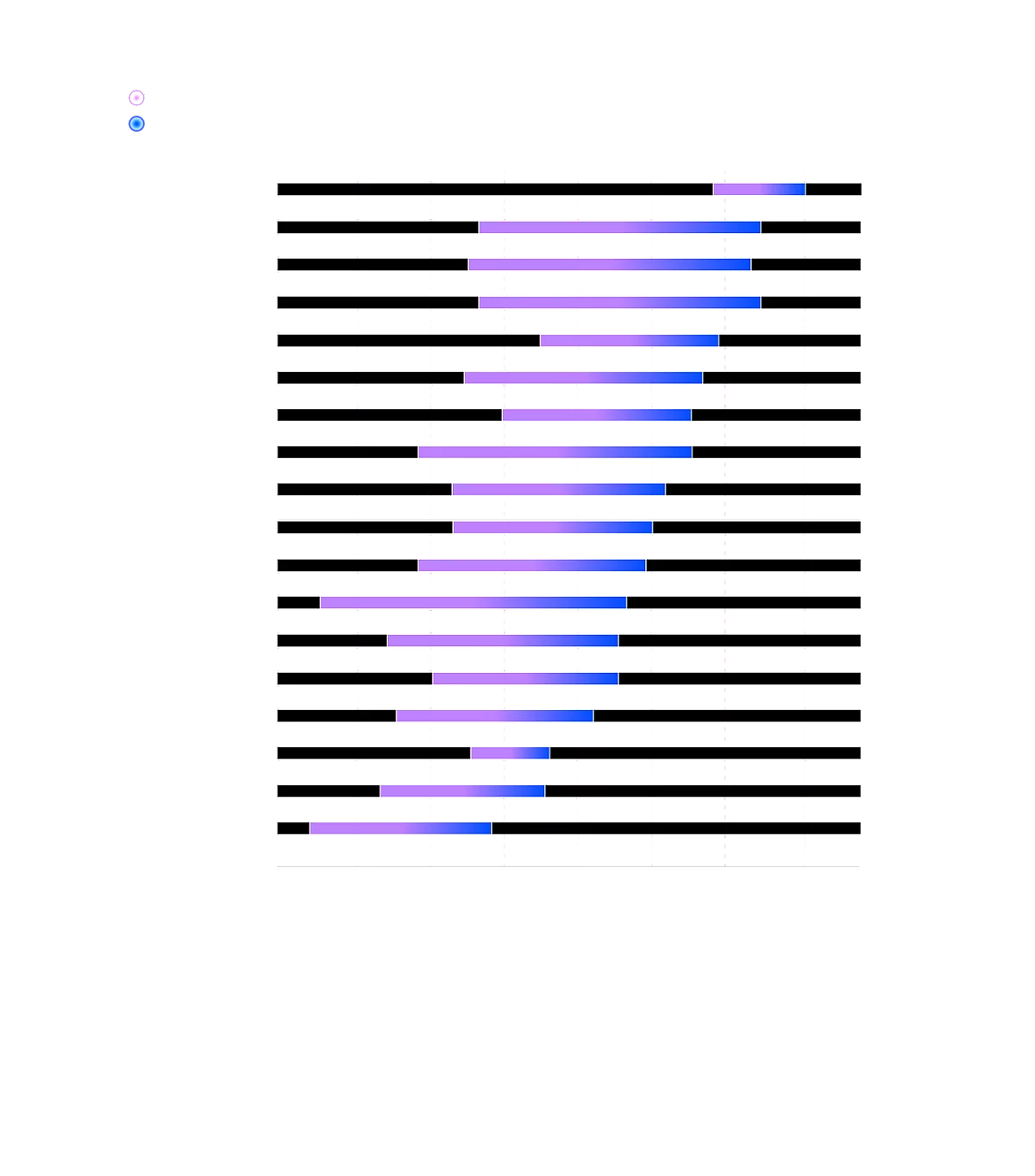 If you're looking to improve your AI maturity and drive intelligent operations, focus on the following areas:
Make AI a strategic priority. Drive decision-making from the top. It's time to move beyond pockets of pilots and scale up AI progress. Take bold moves backed by senior leadership. Use AI to solve critical business problems. Invest heavily in talent and create data and AI fluency across the organization. Prioritizing efforts to build AI literacy in the workforce makes it much easier to scale human and AI collaboration to ensure AI permeates the organization. For instance, the leader of a renowned manufacturer of construction and mining equipment is laser-focused on making an impactful difference to customers, dealers and enterprise peers through digital innovation by connecting assets to appropriate technologies.
Create AI value. Every part of every business must be transformed by technology, data and AI, with new ways of working and engaging with customers and new opportunities for growth. In our experience with clients, we're seeing compressed transformation cycles—data-driven and cloud-led—that bring speed and new opportunities through value creation. For example, an innovative pharmaceutical company created a cloud-based core that serves as the foundation for an advanced, data-driven management model for the company's global operations. Previously its supply chain, HR, accounting and purchases were spread across countries, locations and departments. Now, newly gathered data from the consolidated system can be worked through AI and analytics engines that will streamline the processes leading to better, faster drug discovery.
Design AI responsibly. Consider the ethical aspects of cutting-edge technology, especially AI, as part of a responsible, sustainable future. For example, Novartis is creating effective accountability mechanisms and risk management controls to keep AI-powered operations and services aligned with the company's core values. Becoming an AI Achiever involves deploying trustworthy AI which is regulation-ready to gain the confidence of stakeholders.
Raise the bar
Even those organizations with relatively high AI maturity still have room for improvement. However, those balancing capabilities across strategy, data, AI foundations, talent, culture and responsible AI have an early advantage in using AI to unlock new operational efficiencies and growth.
AI investments are already being prioritized. Our AI research highlights that from 2019 to 2021, the percentage of AI as a part of the overall tech budget has moved rapidly from 14% to 28%—on this basis, by 2024 we believe it is likely to be 34%.
At the same time, it's important to acknowledge that some industries, such as banking, capital markets and healthcare are tightly regulated, so implementing AI should be sensitively handled.
Get in touch if you'd like to explore how to implement AI at scale to address operations maturity.
Contributor: Vikas Kaul, Technology Strategy Lead, Accenture Operations