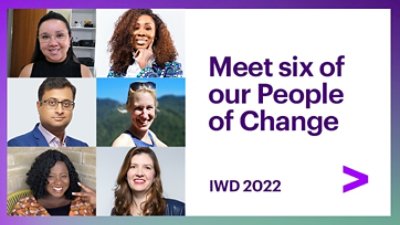 Since its grassroots beginnings in 1908, International Women's Day (IWD) has paved the way for better working conditions, pay and voting rights for women.

Today at Accenture, it marks not only a global celebration of advancement, but also an opportunity to make tangible commitments to the work that lies ahead: achieving a gender-balanced workforce by 2025, and an inclusive and diverse environment.
As we celebrate IWD for the 18th year, our people from around the world are uniting to hold meaningful dialogues about how to address the gender gap and recognize the outstanding efforts of those who are driving positive change toward equality for all.
We're driving change not just within Accenture and for our clients, but also driving a sustainable impact on the world around us. 
A culture of belonging 
Diversity, inclusion and belonging should be every CEO's top priority, according to our latest Better to Belong Report. When the right people are at the table (Diversity) and have access to equitable experiences (Inclusion), all people will experience a culture of Belonging that leave workers Net Better Off (NBO).
Better managing everyday experiences can unlock various levels of human potential. Our research shows that women have the most to gain from this, with the opportunity to maximize their potential by 5x.  
That's why this IWD, we want to shine a light on six Accenture people of change from around the world who have made incredible contributions toward our culture of equality for all. 

It wasn't too long ago when it was rare to find women in the cloud computing industry, but it's rapidly becoming less so. Learn how Dr. Idemudia has harnessed the power of cloud as an Amazon Web Services (AWS) architect to create a firmly grounded career, paving the way for women to carve a path like her.

From neuromorphic computing (where devices can emulate human cognition) and embedding intelligence in textiles to quantum computing, advanced cyber defenses and enterprise robotics, Mary has spent the past 24 years pioneering the latest advances as a technology trailblazer at Accenture and encourages other women to join her. Learn how she did it.

Building a truly equal future means building an accessible one, which is where Liliane Claudia's specialty as an inclusive designer comes in. She oversees accessibility and process-centered design at Accenture Interactive in the Fjord design studio in Brazil. Learn how she works with clients to help create more accessible digital experiences and helps drive our culture of change through internal education at Accenture.

"Our commitment to an inclusive and diverse workplace is not just a glowing message or print on a mug—it's something we live by, every day." To be our best at work, we need to feel our best. Learn how Manish has helped shape Accenture India's I&D charter as a sponsor and gender equality ally.

"There are two things I really love about working here," says Accenture security consultant Ebunoluwa (Ebun) Ogundipe. "One is how technology driven we are and how we keep innovating in emerging technologies. The second thing is our drive for inclusion and diversity—this is one company that takes actions toward addressing the diversity gap." Learn how a fellow woman working at Accenture inspired Ebun to pursue a career in cybersecurity.

The path to net-zero emissions and protecting the planet with low-carbon emitting technology demands the human ingenuity of forward-thinkers. Catharina works closely with the World Economic Forum to drive sustainable change in industrial ecosystems and pave the way towards net-zero emissions by 2050. Learn about her journey through Industry X. 
Be yourself. Be a change maker. Join our team.
Get the latest stories delivered to your inbox by selecting "Life at Accenture."