COVID-19:

3 course correction steps for enterprise recovery
Navigating the human and business impact of COVID-19
Revisit scenarios and course correct
Four potential scenarios for the evolution of the crisis
In March, many companies used scenarios to set their strategic course. These strategic courses required assumptions to be made, which underpinned decision-making.
In Cyclical Outbreaks, we assumed multiple outbreaks due to waning adherence to containment measures, resulting in the reinstitution of lockdowns and a W-shaped recovery.
In Rapid Remission, we assumed effective government measures would contain the outbreak with cases subsequently kept close to zero, while also leading to a V-shaped recovery.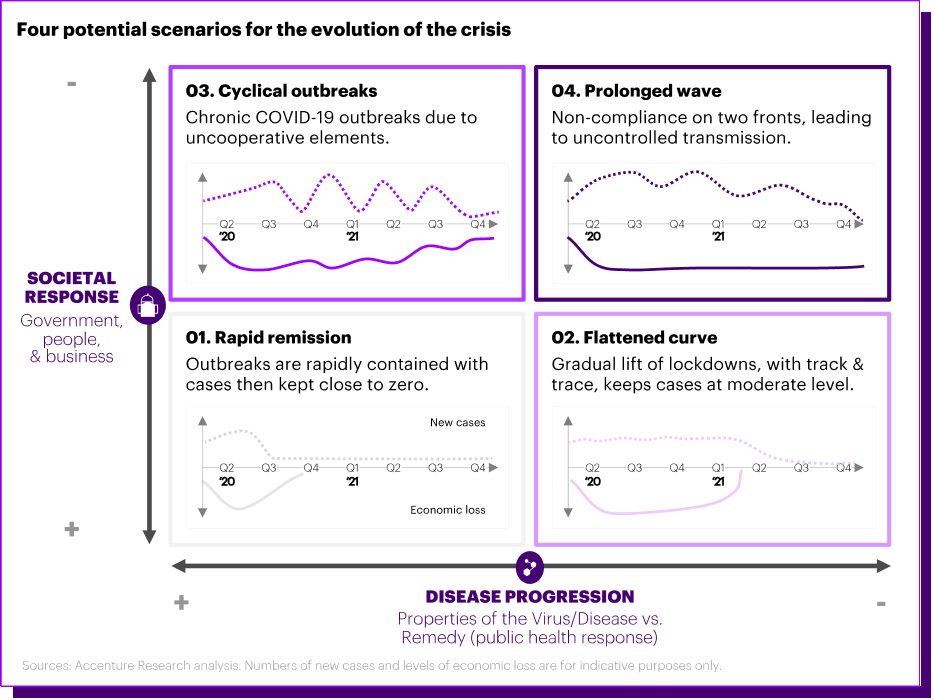 And in Prolonged Wave, we assumed measures would be ineffective at suppressing the outbreak and reviving the economy, with an L-shaped recovery ensuing.
In Flattened Curve, we assumed longer periods of lockdown, with growth taking longer to resume resulting in a U-shaped recovery.
Three critical cross-currents are affecting companies' COVID-19 reopening and reinvention strategies
A material shift in people's attitudes
The removal of strict containment measures signals a shift from policy to choice. This creates challenges for companies trying to implement people-centric strategies and responding to constant fluctuations in customers' and employees' attitudes.
An acceleration in regional divergence, and a rapidly growing risk of disorder
Countries, regions and even cities are increasingly being driven down different paths, with signs of all scenarios emerging. Multinationals face different regulatory regimes and challenges across their markets.
While countries have the capabilities to suppress the outbreak, the will of policymakers and the public is waning. So, where companies had assumed a relatively benign base case scenario, the risk of worst-case scenarios is rising.
A dramatic shift in fiscal stimulus
Policymakers are looking to the future, removing short-term fiscal support in favor of long-term stimulus. While posing risks, this creates opportunities for companies to support the rebuild.
Commit to continuous course correction
Strengthen your ability to sense and respond, focusing on three critical steps:
01. A material shift in people's attitudes
KEEP HUMAN NEEDS AT THE HEART OF YOUR CHOICES
Make decisions with responsibility in mind, protecting people's interests on the path to recovery.

WHAT TO DO NOW
Many people are anxious about returning to offices and public spaces. Don't get ahead of your employees and customers. Take their pulse through high-touch interactions.
Move beyond the transactional to forge deeper and more meaningful relationships that build trust.
As decision-making is increasingly pushed onto individuals and businesses, the next phase of the crisis will be a litmus test for corporate behavior. Compassion and confidence have never been more important.

Foster cultural agility by recognizing and incenting people to adopt new behaviors and mindsets and to rally around a new landscape.
Don't jettison empathy and compassion in favor of shareholder returns. Become an "emotional enterprise," focusing on your purpose and how you contribute to the greater good of society.
Boost resilience by making temporary measures—like paid sick leave—permanent.
Go beyond mental health awareness to provide care and tackle root causes.
WHAT TO DO NEXT
Use advanced analytical models that draw on multiple sources of insights to monitor sentiment and detect new patterns of behavior.
Establish which drivers affect the patterns and create projections; on the scale of impact and on the level of change.
Build capabilities and partnerships to more effectively explore how to make better business decisions informed by expertise in areas such as ethics, social psychology and the humanities.
Redefine the norms of what your leadership teams look like, seeking out neuro-diverse, contrarian voices, who don't fit the typical profile of a leader or the culture of the organization.
Revisit succession planning and invest in training and reskilling programs, ensuring that the values and skills of future leaders are aligned with those that are needed post-crisis. Revisit not only how you select leaders, but also how you develop them from an early stage.



02. Acceleration in regional divergence and a rapidly growing risk of disorder
RAISE GLOBAL-LOCAL DEXTERITY
WHAT TO DO NOW
Empower local business leaders to make decisions at speed. Monitor local responses to identify success stories that can be rolled out elsewhere.
Ensure government relations teams play a central role in coordinating a local-to-global response, using their knowledge of regulatory regimes emerging in different markets.
Improve cross-channel inventory management with data and analytics in order to reposition and repurpose inventories across geographies and customer segments.
Leverage upturns in demand in recovering areas to prepare for recurring stress, or to help other regions in stress.
Prepare for new regulations affecting manufacturing locations and supplier economics. Expand communications strategies to reinforce one-company messages and to drive broad-based concern and collaboration across the company.
WHAT TO DO NEXT
Bring together the best innovative digital technologies, process and industry expertise to create an evolved working environment, driven by data and analytics.
Orchestrate the allocation of work across human + machine talent – using advanced data tools and assets to identify transactional tasks that can be automated and performed by software bots, and free up talented people for more critical thinking.
Draw on data and insights to improve the quality and speed of decisions that drive target business outcomes.
Monitor and provide a real-time window into parts of the business that need improvement, so you can intelligently and quickly reallocate work, mitigate risk and address potential issues, ensure the continuity of business and the health of your workforce, and deliver sustainable business outcomes.
HEDGE YOUR BETS
Put robust mitigating strategies in place for all eventualities, including worst-case scenarios.
WHAT TO DO NOW
Consider the implications of worst-case scenarios for your workforce, customers, supply chain and operations, systems, finance and brand.
Critical risks will include lengthened anxiety for employees, declining productivity, extreme volatility in supply and demand, and the exhaustion of fiscal measures to contain the economic fallout.
Define mitigating actions, ranging from targeted workforce reductions to rapid replacement strategies for supply chains, which are triggered once thresholds are hit.
Scale resources and systems based on the scenario confronting your organization in the moment.
Shift or expand partnerships as needed to address alternative, emerging scenarios.
Review security threats as bad actors seek to take advantage of individuals and organizations that are reacting to different stages of the crisis.
WHAT TO DO NEXT
Tackle uncertainty by using data science to establish what is driving scenarios, and to understand the impact of uncontrollable variables on them.
Use machine learning techniques to identify true correlations between macroeconomic indicators and internal actions. Simulate the most effective actions to take in response.
Capitalize on new sources of data and advanced analytics to understand the shape of demand and provide actionable real time insights for decision making.
Develop new "value" use cases tailored to a lower spending environment.
Continue to improve your omnichannel approach, doubling down on what worked during lockdown, and standing up online services that improve service while lowering cost to serve.
Consider where subscription or leasing models are appropriate. Offer dynamic pricing at a personalized level to get customers over the purchasing line.
03. A dramatic shift in fiscal stimulus
REPOSITION FOR RECOVERY NOT RELIEF
Actively shape the recovery by engaging with stakeholders, repositioning the business to respond to government plans and the changed shape of demand.
WHAT TO DO NOW
In our survey of C-suite executives, we found that 60% foresee additional government intervention and believe it will benefit the recovery of their industry.

Engage industry bodies and trade associations to champion favorable changes, and to lock in changes that have proven effective through the lockdown.
In more vulnerable industries, continue to press for government support to mitigate the longer-term impact of COVID-19, particularly given the growing risk of worsening scenarios.
Countries are beginning to announce economic recovery plans, many of which are focused on infrastructure development, aimed at creating jobs and boosting growth.

Seek to position your organization to support national recovery agendas, and enable fairer, smarter and greener growth agendas.
WHAT TO DO NEXT
New forms of demand are likely to emerge, particularly in the public and healthcare sectors.
Reposition your offerings to serve these new sources of demand.
Course correct, again and again
The pandemic has yet to run its course and the economic outlook remains unpredictable. All organizations are faced with this uncertainty as they reshape operations to meet market demand. As the scenarios change, those who decided to accelerate their digital transformation—embracing cloud, AI, analytics, flexible IT infrastructure, and intelligent operations—will be foundationally ready to lead the charge with insight and agility.
As we journey toward recovery, supporting the human needs of employees and customers must remain top priority. This focus on people—in tandem with an ability to iterate and adjust the direction forward—will be of utmost importance in the months ahead. Success on this journey will come to those who outmaneuver uncertainty, continuously. More than ever, companies who course correct again and again, will find their competitive advantage determined by their ability to predict and prepare, sense and respond.
As the situation unfolds, we will continuously update our materials, so please check back regularly.
Contact Us
Simon Eaves
Managing Director, UK and Ireland
Annette Rippert
Group Chief Executive, Strategy and Consulting
Manish Sharma
Chief Operating Officer
Kathleen O'Reilly
Global Communications, Media and Technology Industry Practices Chair
Rachael Bartels
Senior Managing Director, Global Lead – Enterprise Function Networks & Programs
Koen Deryckere
Senior Managing Director, Global Lead – Industry Networks & Programs
Trevor Gruzin
Managing Director, AAPAC Lead, Accenture Strategy, and Growth & Strategy Lead for Growth Markets
Paul Nunes
Managing Director – Accenture Research