CASE STUDY
Supplier inclusion and sustainability
Cultivating a culture of responsible buying on a global scale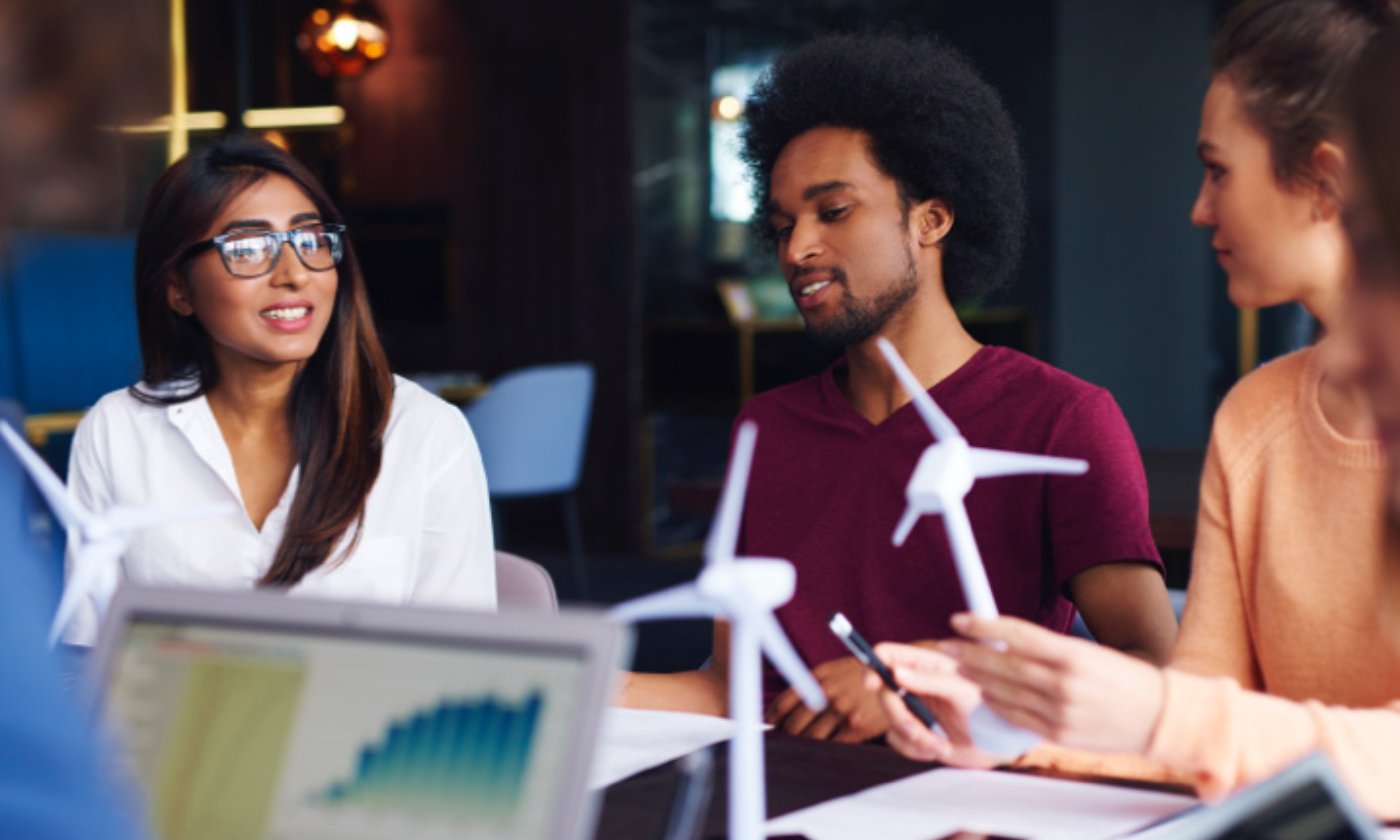 Call for change
We believe inclusive procurement creates long-term value for our clients and our communities, and is an important part of how we are embedding sustainability into everything we do. At the same time, these practices help our suppliers grow their representation and influence in their own markets, contributing to our collective shared success.
As we advance equality of opportunity, our commitments manifest in a global responsible buying culture—one that we cultivate and leverage at scale with our multi-billion dollar supply chain. Operating a responsible business, where everyone benefits through buying for long-term value, is one of the many ways we are delivering change on a global scale. To advance this, we continuously improve our functions and implement several initiatives and programs.
When tech meets human ingenuity
Supply chain
One of our key objectives is to help build supply chains that are more inclusive and more sustainable. By encouraging a mindset of responsible buying both inside and outside Accenture, we are helping to generate long-term value for our clients, supplier partners and communities. Supplier Inclusion and Sustainability (SI&S) are at the core of this mindset and our procurement strategy. Our Procurement Plus organization promotes these values by shaping how we work with suppliers.
Supplier Inclusion & Diversity Program
Our global Supplier Inclusion & Diversity Program, which reaches 22 countries and is expanding, allows us to drive a more inclusive marketplace. By incorporating diverse businesses into our supply chain, we gain access to innovative, responsive and cost-competitive solutions for our clients.
We explore new ways and opportunities to promote the inclusion of persons who may be excluded from the labor market for physical, social or cultural reasons through our Global Supplier Inclusion & Sustainability Program. These groups include minority-, ethnic- and women-owned businesses; small and medium enterprises (SME); the lesbian, gay, bisexual, transgender and intersex (LGBTI) community; persons with disabilities; veterans; refugees; and people living away from economic centers. We support broader inclusion not only through direct recruitment but also through agreements with our vendors and in collaboration with other organizations.
Our partners include national and local nonprofit supplier diversity membership organizations. Out of the 18 organizations we're corporate members in, we hold board seats on 11 of them.
We co-founded and have representation on the Board and executive committee of WEConnect International. Our involvement with this organization is one way we continue to provide opportunities for women-owned businesses around the world. We provided in-kind support to develop and launch a new WECommunity platform that includes an improved database for business women to engage with one another and large member buyers.
In addition to our partnership to launch the WECommunity platform, Accenture has local collaborations with the organization in 16 countries, while supporting conversations to launch the network in new markets in the Middle East and Asia. For our new Diverse Supplier Development Program countries we are including WEConnect International-certified businesses providing more opportunities to strengthen their operations and increase business.
To help collaborate with our suppliers, partners, and the broader ecosystem, we have invested in a global Sustainable Procurement Hub. This hub is a major component of Accenture's True Supplier Marketplace.
The Sustainable Procurement Hub is designed to cultivate a culture of responsible buying, taking into consideration tailored and targeted information requirements and interventions for small, medium, and diverse enterprises. The hub is two-sided in data sharing and blockchain-enabled. It will be rolled out globally, eventually reaching thousands of suppliers at scale. The hub will help to better assess suppliers' Environmental, Social and Governance (ESG) performance and encourage continuous improvement across buyers and suppliers over time.
The Global Supplier Inclusion & Sustainability Program also works closely with our Accessibility Center of Excellence, stakeholders and vendors, establishing road maps to ensure sufficient accessibility of our web-based technology for persons with disabilities.
Diverse Supplier Development Program
Accenture has a long-established supplier diversity development program covering seven countries. Our Diverse Supplier Development Program (DSDP) is a formal 18-month mentoring program that matches Accenture executive mentors with diverse supplier companies to help them grow their businesses. The program reflects our commitment to developing and expanding relationships with diverse businesses.
To enable the efficient delivery of DSDP programs, Accenture built a Small Medium Enterprise Digital Ecosystem (SME-DE) platform that facilitates easy interaction between SMEs and Accenture. It supports SMEs through the entire DSDP cycle, from having an automated application selection process, business assessment for targeted development, providing business tools and exposing commercial opportunities as they mature.
Environmental Sustainability
To advance environmentally sustainable procurement practices both within and outside our company, we expect our suppliers to provide updates around their environmental initiatives, goals and impact. We also encourage local and regional teams to discuss greener procurement during their regular supplier meetings. By engaging our suppliers on the benefits of environmental sustainability, we are increasing the number of participants that monitor, measure and report their environmental impact.
As the interim CPO of Accenture, I believe that our SI&S Program supports inclusive procurement practices through direct recruitment of suppliers and partnerships with vendors and organizations.
Tricia Miller / Interim CPO
A valuable difference
Accenture, clients and communities benefit from the innovative contributions of small-/medium and diverse suppliers. Treating supplier inclusion and sustainability goals as an essential part of Accenture's procurement strategy can help unlock value that far exceeds traditional supply chain cost savings—from boosting competitiveness and innovation to building consumer loyalty, attracting talent, and bettering society.
Through our Global Supplier Inclusion & Sustainability Program, we monitor our diverse spend for insights and trends. Our Diverse Supplier Development Program represents a strategic sourcing strategy for Accenture and our clients, as well as a way to strengthen communities by creating more businesses, jobs, and economic growth.
Receiving award-winning recognition of our Global Supplier Inclusion & Sustainability Program in recent years has led companies to reach out to Accenture for guidance. As a result, we developed an offering and have designed and developed a number of our suppliers' supplier diversity programs. Similarly, as Accenture has made strides on our sustainability journey, companies are contacting us for our thought leadership in this domain as well.
Looking ahead, we are planning to improve and optimize how we manage our supplier engagement and collaboration. This includes focusing on how we obtain diversity information, how we help suppliers improve around their ESG performance, and how we will innovate with suppliers. Accenture's Sustainable Procurement Hub will be a key asset in helping enable these future goals.
We proudly partner with diverse organizations, including minority, ethnic and women-owned businesses, LGBTQ+ communities, persons with disabilities, veterans, refugees, and those in underserved areas.
Tricia Miller / Interim CPO
Accenture Global Supplier Inclusion & Sustainability Program at a glance:
217 diverse suppliers
Graduated globally from our DSDP as of fiscal year 2021.
Level 1 B-BBEE
Maintained a Level 1 B-BBEE (Broad-Based Black Economic Empowerment) status in South Africa for the fourth consecutive year in fiscal 2020. Read more.
Level A
Nine consecutive years scoring in the CDP Leadership Band. Read more.
Meet the team
Tricia Miller
Interim Chief Procurement Officer
LinkedIn
Ben Ngobi
Global Supplier Inclusion & Sustainability Director
LinkedIn
Sesley Brown
Senior Manager – Corporate Services & Sustainability, Supplier Inclusion & Sustainability
LinkedIn
Elena Heckmann
Supplier Sustainability Strategy Lead
LinkedIn
Dora Silva
Supplier Inclusion & Diversity Lead
LinkedIn
Lucas Costa
ESG Ops Model/Sustainable Procurement Hub Lead
LinkedIn
Zandile Njamela
Enterprise Supplier Development Lead
LinkedIn