RESEARCH REPORT
More than hot air with methane emissions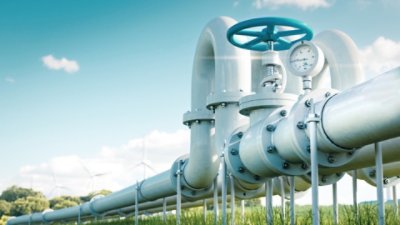 In brief
Methane mitigation and management should be key components of the world's energy future. The time to act is now.
Setting net-zero targets is the first critical step to reducing emissions by 2050.
A zero-based transformation can help embed sustainability into the business. Companies that adopt such an approach can reimagine what is possible.
By now harnessing the power of digital technologies, incentives and value models, a zero-methane emission future is within our grasp.
Accenture has recently pledged its support for the Aiming for Zero Methane Emissions Initiative, launched by the Oil and Gas Climate Initiative (OGCI) in 2022. The initiative aims to eliminate the oil and gas industry's methane footprint by 2030.
Setting net-zero targets and embedding sustainable business practices and capabilities across the enterprise are no longer optional. This is especially true in the energy industry, where consumers, business partners, regulators, investors and employees are demanding that companies act.
Sustainability is an imperative. A force of change. A guiding principle that should underpin any business's growth strategy and permeate every functional area.
Methane mitigation and management should be key components of the world's energy future. The time to act is now.
Despite national pledges to reduce emissions by 2030, the volume of emissions that heat the environment hit record highs in 2021. The surge in methane emissions over the past year is particularly alarming.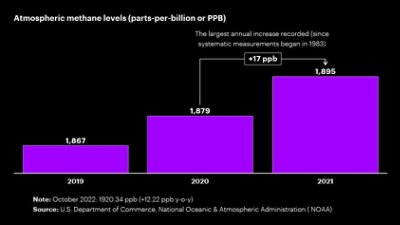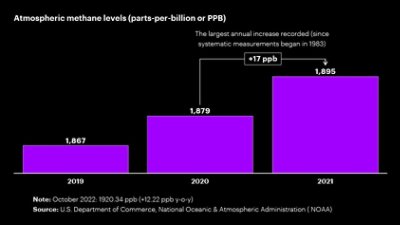 The methane challenge
Methane is one of the world's most potent greenhouse gases. Even small amounts of methane can have a significant warming effect on the planet. In fact, methane is responsible for approximately 30% of the increase in global temperatures since the industrial revolution.
There are several sources of methane emissions, including the extraction and transportation of fossil fuels. The recent rise in methane emissions can be, in part, attributed to the world's embrace of natural gas as a transition fuel.
The 2022 IEA Methane Tracker ranks Russia, the United States and Iran as the world's top sources of methane emissions from their respective oil and gas industries. Regardless of location, industry players contend with three main sources of emissions.
More than two-thirds (68%) of the energy industry's methane emissions are "vented." That means they are released during maintenance activities by valves and blowdown vent stacks to limit pressure on the system. Another 10% occur during flaring events due to incomplete combustion. The remaining 22% of emissions are so-called fugitives, expelled via leaks across the infrastructure.
While some methane emissions are a normal byproduct of extraction and production activities, super-emitting events also occur. These large, one-off incidents are more difficult to predict, detect and control.
The methane opportunity
To achieve their net-zero ambitions, energy companies are increasingly focused on reducing their emissions and scaling and expanding clean energy technologies and supplies.
Our recent survey of more than 200 companies showed the majority (58%) are placing greater importance on energy sustainability.
There are several reasons that methane management should be a cornerstone of energy companies' sustainability agendas.
Climate impact
Financial gain
Stakeholder pressure
Methane momentum
Energy companies are starting to recognize that methane management presents a unique opportunity for them to reaffirm their decarbonization commitment—and generate new revenue in the process.
Leaders have started to set methane targets. Yet, according to Accenture's most recent Oil and Gas Reinvention Index, fewer than 15% of energy companies have set methane targets in line with the Global Methane Pledge, which calls for a 30% reduction by 2030.
Setting net-zero targets is the critical first step to reducing emissions by 2050. And it works. Recent Accenture research found that companies with such targets cut emissions faster than those without. And those with more sophisticated measures cut even faster.
If energy companies act now to tackle the methane crisis, there is still a chance that we will avoid the most calamitous long-term effects of climate change.
The future of methane management
Getting to zero methane emissions is increasingly possible. The technologies needed to abate it are mature and readily available. And digital platforms are now being developed to integrate the complex components of an effective methane management program.
What is now needed is a shift in focus—from methane detection and repair to prediction and prevention. From a 30% reduction goal to methane-free gas. And from regulatory frameworks that encourage fragmented approaches to a more consistent framework, supported by end-to-end integrated methane-management platforms.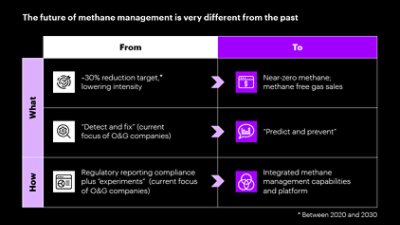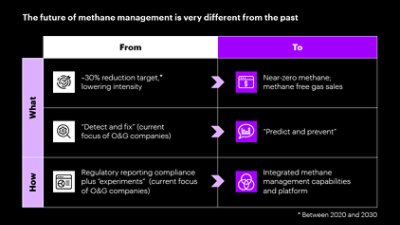 We believe recent breakthroughs of new digital methane management platforms, new value models and emergence of standardized policies and incentives have unlocked three opportunities for companies:
Deploy multi-modal, fit-for-purpose detection systems
Infuse methane insights into business operations
Design for a zero-methane future
Seizing the methane moment
Methane emissions management is becoming and will remain a critical part of energy companies' clean energy future. Managing methane is already enabling the energy transition (and, specifically, the shift to gas as a transition fuel). The industry only has five to 10 years to transform. This will not be easy. But the energy industry has, time and again, made the impossible possible.
By now harnessing the power of digital technologies, incentives and value models, a zero-methane emission future is within our grasp.