CASE STUDY
A global HR transformation
BT Group puts people at the center of change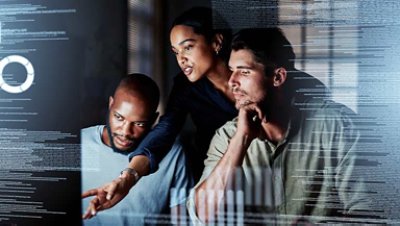 Call for change
Investing in the colleague experience
As one of the world's leading communications companies, BT Group provides products and services to millions of customers across 180 countries. The company's mission is to connect for good—through the power of technology, it aims to help people live, work and play together better. So, when an opportunity emerged to enhance connectivity within its own operations, BT Group was primed to seize the moment.
After making several acquisitions over the years, BT Group had accumulated more than 200 disparate HR systems across its global operations. Recruitment, onboarding and other HR processes were inconsistent and manual, leading to complexity. And without universal mobile access to HR systems, employees were unable to manage their own careers with ease and flexibility. BT Group wanted to better serve its people, from office workers and salespeople in national stores to the field force out on the road. As the lifeblood of the organization, they needed to be as well connected as BT Group customers.
Additionally, the scattered HR landscape meant BT Group lacked a global view of its 107,000 colleagues. The company knew, however, that a single source of truth that supplied data for organizational insights would provide an unparalleled opportunity to identify, attract and retain talent.
All in all, a single HR system—accessible anytime, anywhere, from any device—would optimize BT Group's HR function and deliver a significantly enhanced employee experience.
When tech meets human ingenuity
Simplify, standardize, streamline
To improve HR processes, policies and systems, BT Group decided to deploy a global, cloud-based solution. With significant expertise transforming and delivering HR services and capabilities at scale, Accenture was a natural fit to help BT Group implement the solution using SAP SuccessFactors (a suite of tools for human experience management, or HXM). The program operated on an iterative design and delivery approach with close alignment to business outcomes and dependencies.
The team created a global template to standardize HR processes across BT Group's operations, adding only essential or legal/statutory variations into the design. They then implemented various SAP SuccessFactors modules to support the processes, including Employee Central (to manage employees and their data in the core HR system), Onboarding (to onboard new hires into the organization) and Recruiting and Recruitment Marketing (to recruit internal and external candidates). In the case of onboarding, for instance, a new hire can now move seamlessly through their required tasks, while HR leaders can instantly check a person's status to ensure timely compliance.

The solution is designed to help people successfully and independently complete HR activities like updating their address and bank details, or in the case of a manager, issuing promotions and accessing headcounts. Additionally, the data within the solution is distributed across the BT Group landscape, underpinning further business-critical processes such as access and identity management.

Accenture's myConcerto, a platform designed for technology-led HR transformations, was used to showcase standardized best-practice processes. This delivery approach allowed the team to compress the solution's design and build phase.

Finally, the team deployed Qualtrics Employee XM, an experience management platform, which enables BT Group to survey colleagues and create a cycle of continuous improvement. In addition to surveying its workforce throughout the year, BT Group can now tap into individual employee sentiment during key career moments, such as after onboarding or upon returning from maternity or paternity leave.
A valuable difference
Empowering each employee
The team deployed the solution to all 107,000 employees across 44 countries. HR processes are now simplified, streamlined and automated, delivering consistent and positive experiences across the company.
With a single HR system that provides regular capability updates, BT Group can flexibly adjust and adopt new functionality and offerings as needed. Thirty legacy systems have already been decommissioned with more to come, providing significant cost savings. On top of that, a 60% consolidation of HR processes is saving colleagues around one million productivity hours per year.

With translations across five languages, the new system is easy to use and accessible from any device, which means all colleagues have the tools at their fingertips to manage their own data, teams and careers. And with the system's advanced survey functionalities, people now have a voice and feel connected and supported.

Nick Hawkes, People Systems & Data Director, BT Group says: "As technology evolves, so do employee expectations. Now our people can manage their own careers—and voice their wants and needs—with the same kinds of technologies that they use on a daily basis within their personal interactions."

The solution also standardizes data sets across the company, facilitating more strategic workforce management. With a clear and total view into the global telecommunications services company, HR can produce comprehensive reporting that informs all levels of decision-making around talent—across all business areas, including back office, engineering, customer experience, retail and field force—ensuring that BT Group has the right people working in the right places at the right times.
"The partnership between Accenture and BT Group continues to reach new heights. This project is a shining example of how digital technologies can elevate HR from administrative to performance-enhancing," says Derek Melvin, Communications Industry Lead, UK&I.

Looking ahead, BT Group will continue digitizing and streamlining its HR function. Armed with a single data source, the company plans to implement additional SAP SuccessFactors modules to support talent planning, compensation, payroll and more.

Now and into the future, BT Group can enable its distributed workforce to be connected, engaged and effective—thus providing its own people with the same level of service as its customers.