CASE STUDY
Sustainable air travel takes flight
Shell, AMEX GBT, EWF and Accenture create new green fuel platform.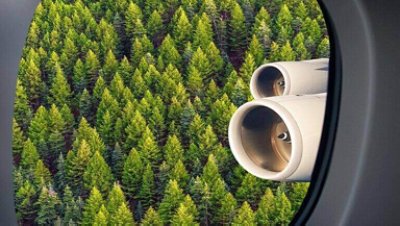 Call for change
As the world moves towards net zero, the aviation industry is under pressure to accelerate its decarbonisation efforts.
Many commercial airlines are looking to reduce carbon emissions with sustainable aviation fuel (SAF), which can be used in today's airplanes without any modifications. Though these fuels can reduce lifecycle emissions by up to 80% when used neat, they are more expensive to produce and the feedstock needed for production is in short supply.
For potential producers, the current landscape of fragmented and unclear demand is preventing the investment into SAF production that is required to drive down cost and enable increased supply.
However, companies with high business travel are increasingly looking for solutions to credibly reduce their emissions in their efforts to become a more sustainable business for their customers and investors.
The Avelia platform has been developed & launched with an overall goal to provide the corporate travel industry with a way to authenticate, record and report the emissions reduction benefits of SAF, regardless of where in the world the SAF is used to fuel a flight.
When tech meets human ingenuity
Avelia was launched in June 2022 and is now processing lie transactions. It is one of the world's first blockchain-powered digital sustainable aviation fuel (SAF) book-and-claim solutions for business travel.
To create Avelia, a global, cross-function team from Accenture, Shell and the Energy Web Foundation worked closely together.
Accenture groups helped design, build and implement the blockchain component of the platform.
Avelia uses blockchain for transparent tracking of the different environmental attributes SAF delivers for the aviation fueling network.
A valuable difference
Greener skies on the horizon
At launch, Avelia became the largest SAF book-and-claim platform, offering around 1 million gallons of SAF. That's enough to power almost *15,000 individual business traveler flights from London to New York.
The platform has successfully demonstrated the credibility of the book-and-claim model and the use of blockchain to ensure secured allocation of SAF's environmental advantages to companies and airlines.
Now, with Avelia, airlines and business customers can simultaneously reduce emissions while ensuring transparency and accountability by avoiding issues such as double counting.
Alongside Avelia, Shell is continuing to make significant investments in the production and supply of SAF and has an ambition that SAF will account for 10% of its total aviation fuel sales by 2030. The demand signals driven by Avelia will help to reinforce this investment and can provide confidence to look at the scaling of supply further.
Thus Avelia may be key to helping airlines fulfill their commitment to achieve net-zero emissions by 2050—making our view from above all the more enjoyable.