In brief
Accenture's Global Disruption Index score tripled over the previous five years. Global and Chinese companies' transformation is being accelerated.
Total Enterprise Reinvention is a new journey of business digital transformation. In China, 2% of companies have begun their reinvention journey.
Accenture has upgraded this sixth consecutive edition of the Digital Transformation Index, identifying 5 key capabilities for business reinvention.
New challenges: Disruption is the new normal
The global macroeconomic environment has become increasingly uncertain and complex, driven by a variety of intertwined forces including political sensitivities, weak economic growth, and high global inflation in 2023. Between 2017 and 2022, Accenture's Global Disruption Index (GDI) score tripled over the previous five years, rising from 30 to 89 out of 100. This increase is especially significant when compared to the mere 4% rise seen from 2011 to 2016.
Companies now face a permanent state of change at an unprecedented pace. In particular, technology, consumer preferences and climate change are driving massive structural shifts in how the world operates. As the speed, breadth and scale of change rapidly increases, companies' transformation is being accelerated globally. The ability to quickly respond to challenges and convert them into opportunities has become a crucial competitive imperative for global companies.
Chinese companies are also experiencing accelerated transformation arising from factors such as a slowdown in economic growth, escalated geopolitical tensions, sustainability becoming the new normal, breakthrough technological innovations and cybersecurity issues.
Adapting to changes in the external environment, Chinese companies have evolved and deepened their definition of digital transformation, they recognize that digitization is not just a simple technological concept or choice, but rather a life-or-death strategy.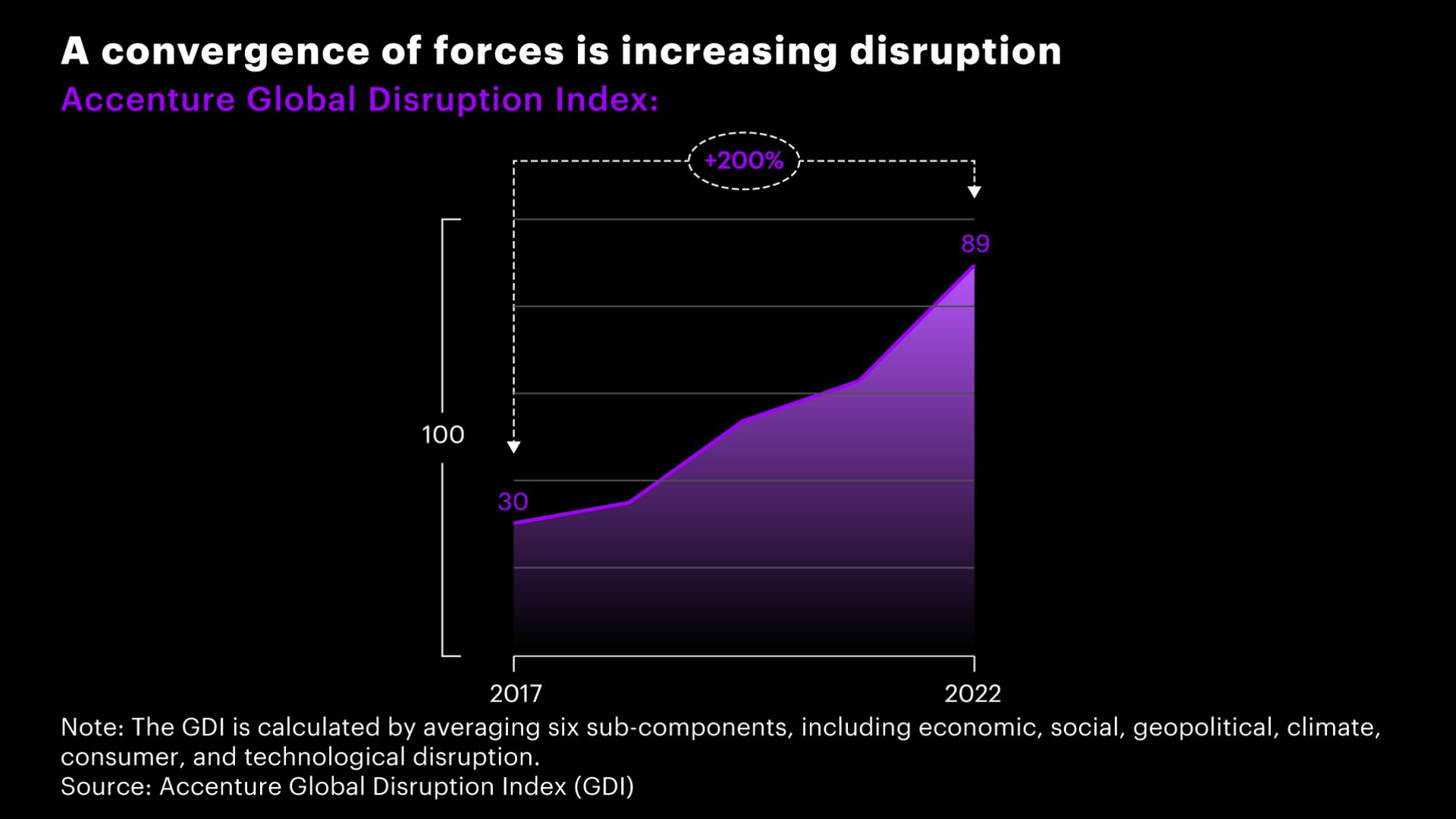 New landscape: Reinvention re-writes the rules
While uncertainty and change pose considerable challenges, they also present opportunities. Many enterprises are seizing the opportunity to step up their transformation efforts and extend technology to a wider range of processes; over half (53%) of the Chinese enterprises we surveyed plan to double down on digitalization in 2023.
Companies are starting to understand that the current state of uncertainty has led them to a critical point where they need to embark on a new journey of digital transformation, with fresh challenges in the form of Total Enterprise Reinvention. Companies must re-evaluate their transformation strategies, take a holistic view to maximize the benefits of technology, and transform diversified challenges into multiple forms of value, reinventing the organization from a broader and deeper perspective.
Only 2% of Chinese companies have begun their journey of reinvention.
According to Accenture's China Digital Transformation Index 2023, 2% of Chinese companies are moving to adopt a strategy of Total Enterprise Reinvention. These forward-thinking companies, or "Reinventors", are ambitious in that they refuse to rest on their laurels but aim at setting new performance frontiers; they are powerful in action, reinventing businesses and functions with a strong digital core; and they champion multidimensional performance, working hard to generate 360° value.
Reinventors report generating 10% higher incremental revenue growth and 13% higher cost-reduction improvements compared with the rest.


Reinventors report delivering 1.3 times financial value in the first six months than other companies.


Accenture's global research indicates that 76% of organizations that pursue Total Enterprise Reinvention say setting non-financial targets is very important, compared with 30% of the others.


Beyond the survey, Accenture's analysis reveals that compared with industry peers, Reinventors perform 32% better on sustainability and 11% better on "net better off" outcomes for talent.
Reinvention opens up a new competitive landscape.
Due to uncertainties in the macroeconomic environment, Chinese companies shifted their focus to operations and cost optimization in 2022. Innovation efforts were significantly dented, as reflected by a mere 1% increase in the percentage of Champions compared to 2021. It is projected that the share of Champions will further decrease to 9% in 2023.
Among the 9% of companies that qualify as Champions, only 1% have successfully evolved into Reinventors. Interestingly, half of the Reinventors are companies that are not even Champions, suggesting that Total Enterprise Reinvention is giving companies the opportunity to overtake their peers.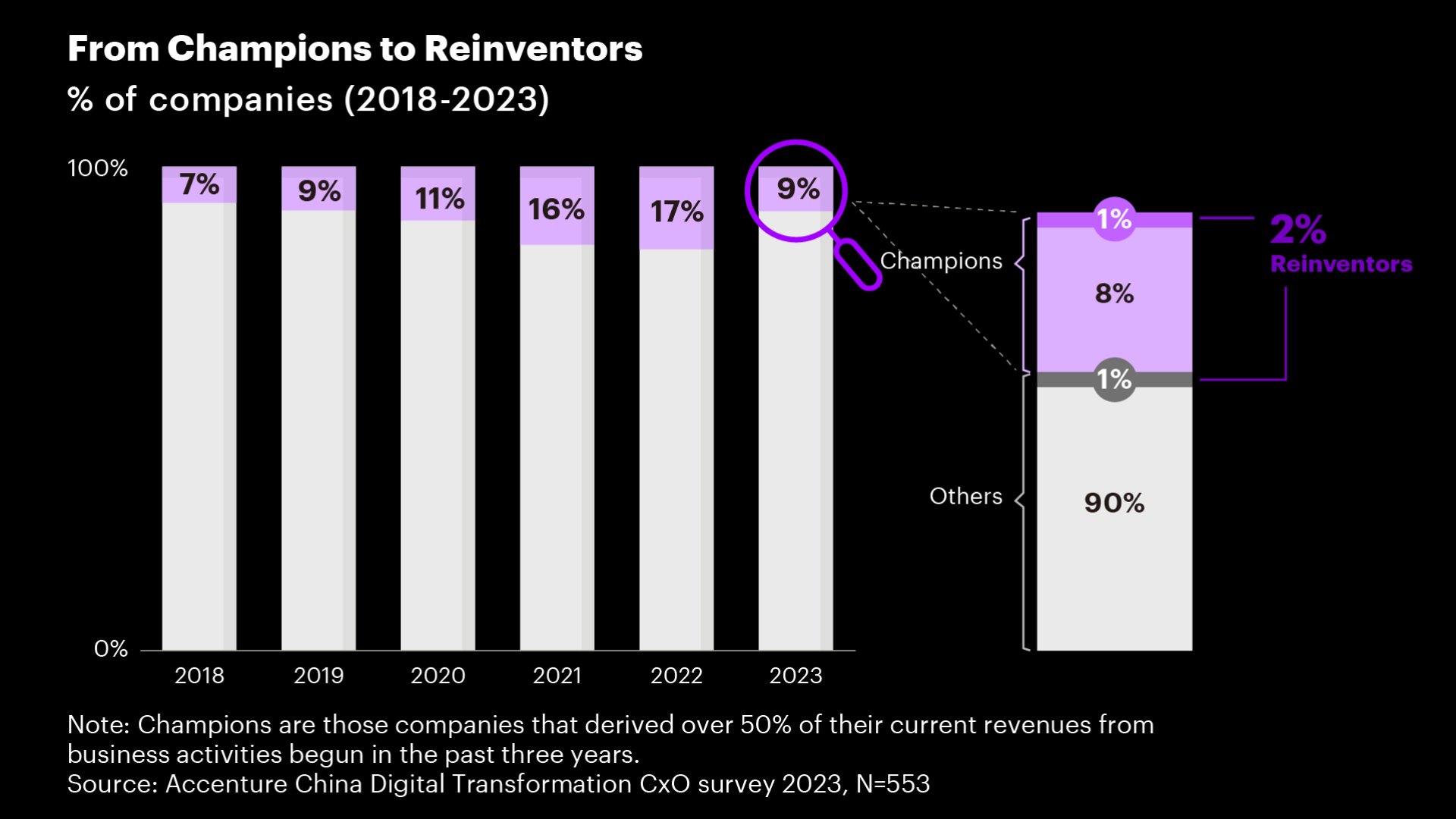 New journey: Five capabilities for success
In today's competitive landscape, companies must proactively confront challenges, establish the new performance frontier and embrace a culture of continuous reinvention. Through an in-depth analysis of Reinventors and interviews with industry experts, we have identified five initiatives for achieving successful reinvention.