Research Report
Disruption-proofing the aviation industry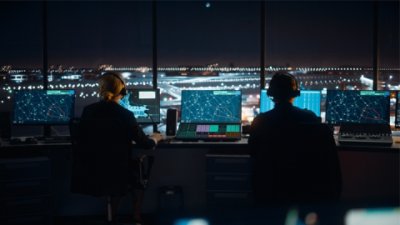 In brief
The aviation industry is firmly on its journey back to growth, but disruptions are now the rule, rather than the exception.
We surveyed 209 leaders across aviation to find out how they manage the delays and cancellations that affect airlines, airports and customers.
The aviation industry can prepare for disruption and achieve operational transformation by leveraging data and 'applied intelligence' assets.
Preparing for reinvention with aviation technology
The aviation industry has weathered multiple storms over the past three years. Yet while the industry is firmly on its journey back to growth, it continues to find itself in a complex and dynamic environment, where disruptions are the now the rule, rather than the exception.
Technology, consumer preferences and climate change are playing a huge role in how companies are facing the future, driving massive structural shifts in how the world operates, and the aviation industry is no exception. This pace of change calls for continuous reinvention, and the adoption of a new strategy, one that we call Total Enterprise Reinvention.
Weather-related disruptions have shown an increasing trend over the years and it's becoming harder to manage delays and cancellations that affect airlines, airports and customers.
The state of Aviation Enterprise Technological Readiness
98%
of the 209 Travel industry leaders surveyed by Accenture across the Aviation ecosystem reported an increase in climate disruptions affecting aviation operations.
50%
of these companies have a concrete technology strategy to prevent and mitigate these disruptions, despite recognizing them as 'important' or 'highly critical.'
40%
of firms reported that they are not yet adequately prepared to predict climatic or external disruptions in advance at an ecosystem level.
As travel continues on its journey back to growth, airlines and airports need to improve operational efficiencies to better prepare for future disruptions and keep pace with increasing growth and reinvention. Managing complex environments requires organizations to be adaptable and proactive in their response to rapidly evolving aviation guidelines and customer experience expectations.
Using data to predict disruption
While technology used to be considered a disrupter, it's now seen as an enabler, the primary source of competitive advantage that will allow companies to build exceptional experiences and breakthrough innovations.
To prepare for disruption, airlines and airports can put innovative data and 'applied intelligence' assets to use at the core of their business. This will allow them to achieve operational transformation, and improve decision making that unlocks significant value and drives the next level of performance across the enterprise.
Our survey revealed that while organizations recognize the impact of imminent disruptions, they are still in 'strategizing phase'. Additionally, several organizations still lack the predictive capabilities to tackle disruptions in advance.
Enabling the future of a changing aviation environment
The aviation environment is complex, with multiple stakeholders coming together to facilitate the safe movement of people and freight. By working together, Airports, Airlines ANSPs/ATCs and Border Agencies can bring a fragmented system into a coherent whole – helping the interdependent ecosystem operate more efficiently and effectively find opportunities for growth and new value.
This interconnection is critical in an era where passengers expect their travel journeys to be disruption-free and seamless.
By using technology to disruption-proof the industry and drive the next level of performance, airports and airlines will be able to reinvent themselves and the wider industry.