LIVE INTERVIEW
Cummins: Composing for reinvention
An interview with Earl Newsome, Chief Information Officer at Cummins
Understanding the power of a good harmony
Earl Newsome understands the power of a good harmony. The CIO of Cummins, a leader in manufacturing diesel and alternative fuel engines, generators, their related components and technologies, is working to lay the groundwork for a future where every customer can expect any product to be powered by any fuel or alternative solution of their choosing, in any scenario, with all the elements of the organization working in harmony to enable it.
We talk to Earl about how his team is helping to unlock the power of technology and laying the composable technology foundations to take advantage of technologies like augmented and virtual reality, generative AI and gesture and voice control, to win in the experience economy. Earl also shares why a diverse workforce that feels it truly belongs is the key to success.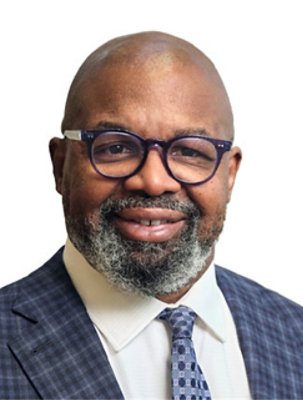 Composability is a lot like jazz music, where different instruments come together to make amazing music, all unified by a syncopated beat.
Earl Newsome / Chief Information Officer, Cummins
How are you helping unlock the power of technology to make a difference?
In order for me to service the diverse Cummins business segments and their differing needs for delivering the same level of performance, quality and uptime (PQU) that our customers expect throughout, I need to think about what we have to do in our core and Accelera business to ensure we're capitalizing on those opportunities. Number one for me is the idea of composability, meaning having the right business architecture, technologies and adaptive mindset in place to support each the traditional and expansive business. Composability is a lot like jazz music, where different instruments come together to make amazing music, all unified by a syncopated beat. We need to adopt a 'Lego-like' mindset; part of Lego´s appeal is that you can build exactly what you want and re-assemble as needed. It´s that modularity and agility that gives composable technology its strength, that ultimately encourages interoperability.
We need a composable approach to how we partner with companies to service the needs of our supply chain, how we do mergers and acquisitions (M&A) to support this, and to how we create and deliver those deals. Composability is also key to how we're going to deliver those business outcomes. That means a composable architecture that's built to move at the speed of business - whether it's the diesel business or the fuel cell space, we need a composable architecture to deliver all of our solutions across that diverse energy spectrum. Lastly, as we begin to rethink how we modernize our IT culture, we have to bring composable thinking to every one of our individuals.
At Cummins, we're going to be thinking about ways of allowing people to move at their own pace to deliver composable solutions that leverage composable architecture, or to deliver composable M&A practices across the whole composable spectrum. Composability for us boils down to those three things: how we're going to deliver M&A deals, our architecture and how we deliver solutions and business outcomes, and how we're going to modernize our entire IT landscape.
How are you building up digital culture to support the business?
We won't get to this composable strategy unless we build the talent necessary to deliver it. It begins with our people, and trying to find and build the talent that we need. We're focusing on diversity, equity, inclusion and belonging. In order for us to get the talent we need, we have to be more focused on diversity because talent is equally distributed, but opportunity isn't. We do ourselves a disservice if we only focus on a subset of the population - why not focus on 100% of it? Diversity means going after 100% of the available talent pool to find talent that's going to fuel our composable thinking architecture and approach to M&A. Diversity begins with this concept of being invited to the dance party, equity is being able to dance, inclusion is being asked to dance.
However, belonging is wanting to dance as if no one's looking at you. I'm hoping to create an organization where people want to dance as if no one's looking at them. The way we're going to achieve that level of belonging is to create an organization full of psychological safety. Psychological safety comes from four things: inclusion safety, which is this notion that in order to be included, all you have to do is be human and do no harm; learner's safety, so you can learn without fear of being ridiculed; contributors' safety, so you can contribute without fear of your contribution being dismissed; and challenger's safety, so you can challenge ideas without fear of retaliation. So, in order to create that organization of belonging, you have to create an environment of psychological safety built around those four elements of safety.
That's my strategy to find and bring onboard new talent, and ensure they feel they belong. That will earn their discretionary effort and allow the company to count on them to deliver the outcomes that we need.
 
What skills are needed to support digital innovation?
We need to expand our thinking around what technologies and capabilities we need. There are three key factors to achieving this:
 Moving from a credentials-based perspective to a skills-based perspective. How do we look for skills instead of credentials? This focus will eliminate and drive down the college requirement and bring up the skills requirement needed to futureproof us for a composable future.
 Moving from STEM to STEAM. We need STEAM (science, technology, engineering, art, math) talent because we live in a world which is an experience economy. That demands a new set of skills to create memorable experiences for all consumers of technology. We will need digital anthropologists and UX designers to inject some art into the technology that we deploy.
 Go to new places to find new talent. There's an opportunity/aptitude gap, and it's at the zip code level. If we can close that gap, we can find the talent we need to fill the resources we'll need in the future.
The aim of all this is to expand where we look for talent, ensure we're looking at 100% of the available talent, extend our capabilities and inject art into what we do to deliver the solutions we need now and in the future. 
What technology trends will be the game changers for the industrial industry?
The future of computing will see continued maturation of human computer interfaces, where anything could be a screen and anything can be an input (voice, gestures etc). This will help "flow-based computing", the idea of computers working within your flow versus you having to work in the flow of the computer. This is the next generation of the experience economy.
A perfect example of a flow-based system would be reinventing an industry - for example, airport check-ins. Luggage will be identified as you drive up to the airport, then you can drop it at the front. The airport knows who you are and automatically routes the luggage to the inspection station, then onto the plane. You walk directly from your car to the plane after being visually identified through a scanner. You will sit on the plane and it knows that you're in the seat and that you're between trips and you got halfway through your favorite movie, so it starts you off where that movie left off. To me, that's the vision. There are so many areas where flow-based computing can make experiences fantastic, from the emergency room to a service bay. This will be helped along by things like natural language processing, so you can interact naturally. 
Generative AI will transform how we search online, and make it conversational. That will change the way that humans interact with computers and make it more transparent, flow-based and intuitive. Conversational search is a flow-based model. Then human-computer interactions will evolve to be based upon gestures, voice, anything in your flow. 
Augmented reality, virtual reality and mixed reality will also be key. We will be able to bring those realities to you or your flow without you having to go to a virtual world. You will be able to see it through the vehicle lens if you're in a car or through some sort of ocular lens. If you're wearing glasses, you can begin to see and navigate your world in a new and different way, based on your flow. The adaptation of flows to human-computer interactions, leveraging these technologies, will create new, amazing experiences and change the way that we operate in our personal and professional lives.