Interoperability:
Value untangled
Accelerating radical growth
through interoperability
Overview
A high level of interoperability—when enterprise applications work together—creates long-lasting value, accelerating growth and transformation.
Companies with high interoperability grew revenue 6X faster than their peers with low interoperability.
Interoperability reduces time spent toggling between applications, which can free up nearly two hours of employees' workdays.
For high interoperability, leverage the cloud, utilize composable tech and focus on meaningful collaboration.
Agility in uncertain

times
In an unpredictable world, the ability to quickly adapt to new circumstances, adopt new technologies and otherwise remain nimble allows companies to thrive. With the integration of these technologies, people and processes, they can untangle value from chaos and accelerate growth.
Our new global research found that in the last two years alone, one in two companies have had to transform multiple parts of their business at the same time or execute a single large transformation much faster than ever before. We call this compressed transformation.
Interoperability:

the great unifier
So how do these companies achieve compressed transformation? They lean on the agility of high interoperability. In fact, companies with high interoperability are 11% more likely to sustain compressed transformations.
Interoperability


Defined:
Interoperability is when enterprise applications can easily interact with each other and exchange data. A seamless user experience across applications creates a single source of data truth that aligns everyone to common goals, leading to better decision making, human connections and insight generation.
Interoperability integrates everything—from business applications to critical IT systems— turning tangled inputs into a single source of data truth. This leaves organizations better equipped to pivot quickly to take advantage of new opportunities.
And with agility comes growth: Companies with high interoperability grew revenue 6X faster than their peers with low interoperability and are set to unlock an additional five percentage points in annual revenue growth.
Interoperability accelerates growth
Source: Accenture Research based on Survey data.
Note: Additional growth rates due to increased platform exploration and seamless interoperability are estimates based on an econometric model such as Revenue Growth i= A x medium interoperability + B x high interoperability + C controls + error, in which the baseline is the low/no interoperability group. Estimates include a variety of firm-specific controls including industry, country, size, technology spending and an interaction term between industry and country. A variety of robustness checks have been performed (i.e., scaling revenue growth by industry averages, by previous growth rates and the results holds. Survey sample= 4,053 firms in 19 industries and 23 countries. Revenue growth percentages have been rounded off to the nearest whole number.
​ Last FY implies the latest annual company financials reported before February 2022.​
That's not all. We found that companies with high interoperability are also more efficient, successful at customer experience, productive and sustainable.
Value from

interoperability
At its core, interoperability connects technology, people and processes. This inherent synergy improves the following value drivers:
Interoperability unites data silos, allowing for greater data visibility throughout the enterprise and better decision making.
Interoperability better manages dependencies, providing the agility to transform multiple business functions fast and at the same time. It improves enablement of the right IT infrastructure needed for successful transformations by 13 percentage points.
Interoperability eliminates the chance that multiple people work on the same task and streamlines data sharing. It also reduces the time spent toggling between applications, something that can account for nearly two hours of every employee's workday.
Interoperability enables holistic, real-time access to customer data stored across systems, which allows a laser focus on customer needs. Highly interoperable companies are 15% more likely to be able to improve customer experience (CX) when it's a priority.
Interoperability creates in-context connections, ensuring that cutting-edge innovation reaches across the business faster—which increases the ROI by 7%.
Interoperability is now

in reach
The concept of interoperability isn't new, but the ability to manifest it is. This is due to three technology changes that are making it easier for organizations to configure and reconfigure applications as needed without overhauling their digital core: ubiquitous cloud, improved application design and low-cost applications.
Our research finds that only one in three companies is capitalizing on these changes to untangle the value trapped within their organization—and they are racing past their competitors.
In depth
GN Group hits play on enterprise interoperability
GN Group, a global audio solution manufacturer, understands the value of high interoperability
Sales had jumped 82% in the first quarter of 2021, on the heels of a 42% rise in 2020 when COVID-19 influenced millions to buy headsets for remote school and work. Company leaders knew this need would only grow with fast-changing consumer behavior—and that GN Group's people and technology would play a critical role in meeting the demand.
GN group used Microsoft's cloud-based enterprise platform to integrate multiple functional applications—like supply chain operations and finance—to gain additional insights. Employees across the organization now make decisions based on a single source of trusted data, and in real time.
What's the long-term value of

interoperability?
An additional five percentage points of annual revenue growth is a significant long-term advantage: If two similar companies start with $10 billion in revenue today, the company with high interoperability would stand to make $8 billion more over the next five years.
Interoperability delivers long-term value
Note: Calculation of annual revenue for next five years is done basis 5% additional growth premium achieved due to higher interoperability. Both companies start at $10 billion in revenue, with company with low interoperability growing at 1% per annum and company with high interoperability growing at 6% per annum.
Better yet, interoperability won't break the bank. Our research shows that leading companies are able to achieve high interoperability with just 2-4% higher IT and functional budgets directed at applications.
Interoperability success
across industries
The value of interoperability is consistent across industries and economic cycles.
The Life Sciences industry, for example, grew rapidly during the pandemic. Companies with high interoperability in this industry grew revenue by almost 10%. Those with low/no interoperability grew revenue at 5%, on average.
On the other end, the Travel industry struggled during the pandemic. The industry's low/no interoperability companies saw revenue decline by 4% on average. The companies with high interoperability that could quickly pivot their business models thrived, growing revenue at 2%.
In depth
Qantas flies above the turbulence with operational interoperability
Qantas,1 the flag carrier of Australia, is one of the few airlines that thrived despite the pandemic, witnessing a 120% stock price surge.
How? The airline quickly pivoted to domestic travel when Australia shut down its borders in March 2020, orchestrating its biggest network expansion in a decade, adding 45 domestic routes.
Executing this compressed transformation was possible due to Qantas's three-year recovery plan centered on creating a better customer experience through personalization, driving new
operational efficiencies and broadening the group's earnings base beyond the core aviation business.2

The airline operates in a diverse software application environment: It chose SAP Qualtrics3 to elevate its customer and employee experiences and Workday4 to bring its enterprise applications into the cloud. And like other companies with high interoperability, it also focuses on integration and interoperability across its applications and data.
Barriers to

interoperability
Today's business and technology landscape can make reaching high interoperability a challenge.
Most large enterprises have more than 500 applications, and eight out of 10 say they plan to acquire more from multiple vendors. But the longer organizations wait to make themselves interoperable, the more difficult it becomes to retrofit interoperability on an ever-growing application stack.
What's driving this difficult situation?
First, enterprises have more choices today due to the large number of cloud-based applications available. The second key factor is that more voices are involved in technology decision making.
Other enterprises—60% of respondents in our study—are held back from improving interoperability because they struggle to align their application strategy with overall business goals. Another 57% cite lack of buy-in from senior leadership; 44% lack a clear ROI or business case; and 34% believe interoperability is simply too expensive.
3 key actions to improving

interoperability
To improve interoperability, companies should leverage the cloud, invest in composable tech and focus on meaningful collaboration.
How to improve your interoperability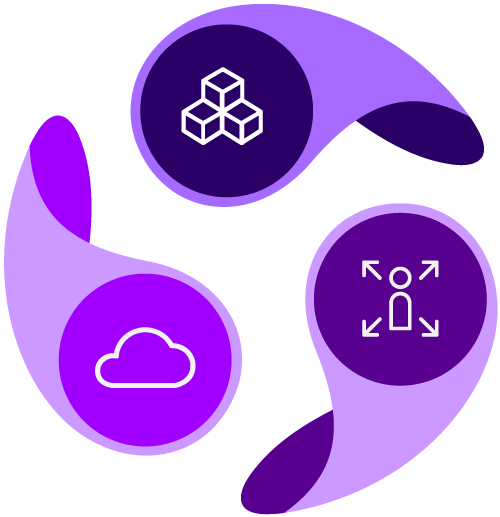 Build repeatable solutions that can be configured and reconfigured at speed to address changing business needs
read more
x
Interoperability:
untangling value for
radical growth
Today's companies must anticipate uncertainty and respond accordingly.
By compressing their transformations from years to months (or even days) and transforming multiple parts of the business simultaneously, companies can overcome obstacles and embrace opportunities. But this only happens when everything is integrated and interoperable, from the diverse technologies that power the business to the employees on the ground.
But building and improving interoperability in a diverse application landscape is easier said than done. Luckily, there are ways to position your company for success: leverage the cloud, utilize composable tech and focus on meaningful collaboration.
One in three companies is able to develop this level of agility to untangle the value trapped in their organization, racing past their competitors in growth, efficiency and resiliency. Their secret? Using interoperability as the catalyst for total enterprise reinvention.