Research Report
Sovereign Cloud: Take control of data and stay compliant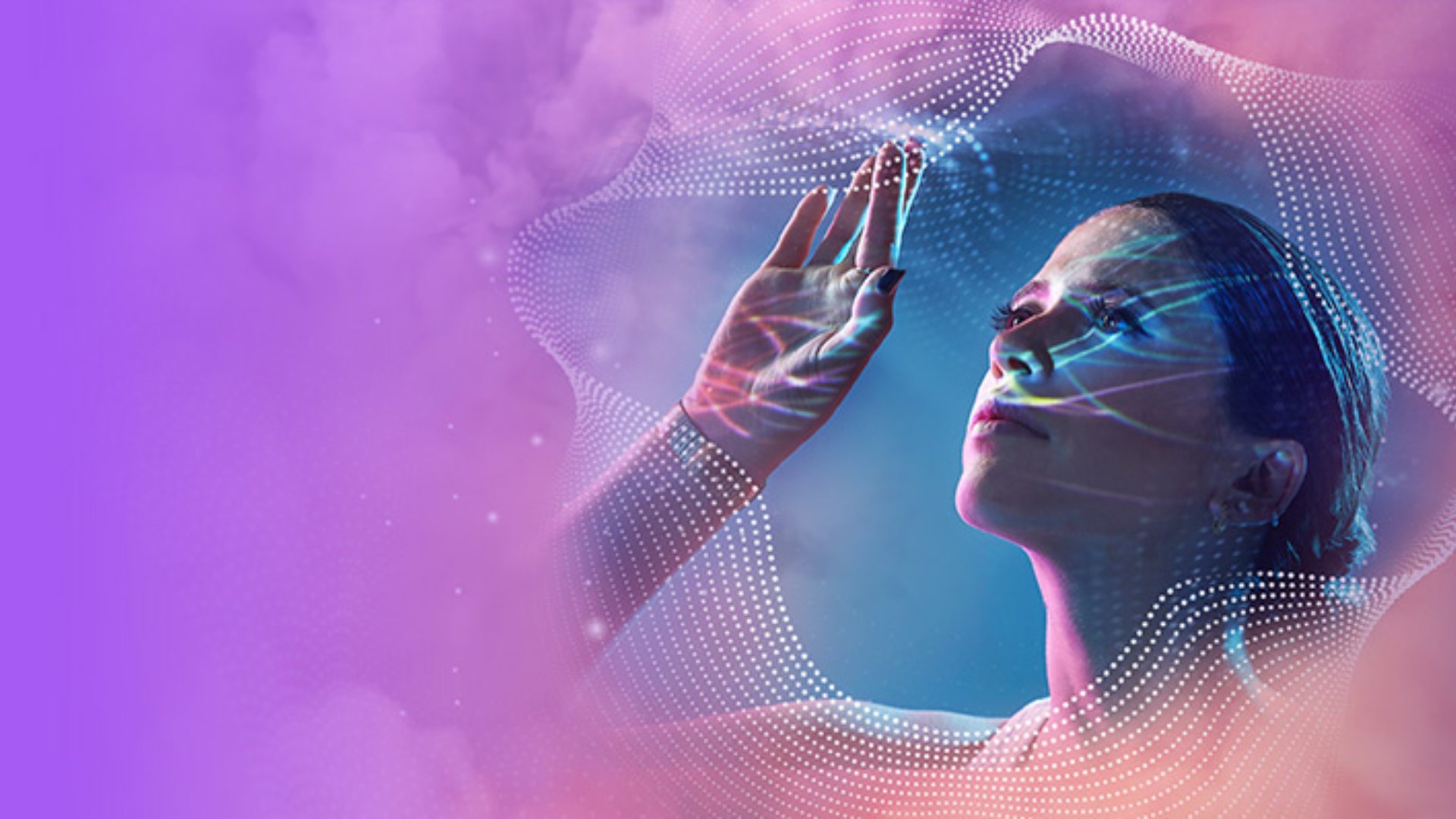 In brief
Control and protection of one's data assets is essential to harnessing data's full power for total enterprise reinvention.
With digital sovereignty laws on the rise, sovereign cloud solutions have emerged to help organizations take back control of their data.
European enterprises are increasingly embracing sovereign cloud, with 37% already invested and 44% planning to invest in the next two years.
Key success factors for adopting sovereign cloud include: vendor partnerships, developing ecosystems and transformation best practices.
Digital sovereignty goes viral
In a time of unprecedented disruption, fast-changing technology—such as the explosion in generative AI— and evolving data privacy regulations, digital sovereignty is a critical hurdle to be cleared on the road to business value. That's because cloud, data and AI, together, help power the digital core—a primary source of competitive advantage for today's companies. Top performers are relying on a strong digital core to drive a new imperative: Total Enterprise Reinvention. Control and protection of one's data assets is essential to utilizing data's full power for enterprise reinvention.
Digital sovereignty is the idea that nation states should be able to exert control over digital businesses and data within their borders.
Europe has been driving the digital sovereignty agenda, with governments, businesses and regulators all coming together to develop a comprehensive regulatory framework, which will impact global economies. The implications for businesses are far-reaching, affecting their ability to thrive in the cloud.
137
countries and counting have enacted some form of data protection and sovereignty laws.
84%
of surveyed organizations say European Union regulations have had a moderate to large impact on their data handling.
Affected companies must now take action to maintain physical and digital control over strategic assets including data, algorithms and software, without impacting their abilities to innovate and deliver for customers.
Sovereign cloud emerges as a solution
As concerns about digital sovereignty have grown, so have the number of digital solutions promising to solve for it. Sovereign cloud is an umbrella term for a range of solutions that look to address two critical concerns.
Cloud's overlapping legal jurisdictions
Most cloud hyperscalers are incorporated in the United States and subject to U.S. law, which can create conflicts when it comes to data protection.
Cloud's boundlessness
Because data in the public cloud can be stored, queried and analyzed across borders, companies risk breaching local or regional data residency and protection laws.
50%
of European CXOs see data sovereignty as a top issue when selecting cloud vendors.
A niche market with growing potential
Today, the size of the European sovereign cloud market is still relatively small, but it has the potential for rapid expansion.
In fact, our survey finds increasing numbers of European enterprises prioritizing cloud sovereignty over the near term, and a huge 89% said that the Russia-Ukraine war has strengthened their focus on sovereign cloud.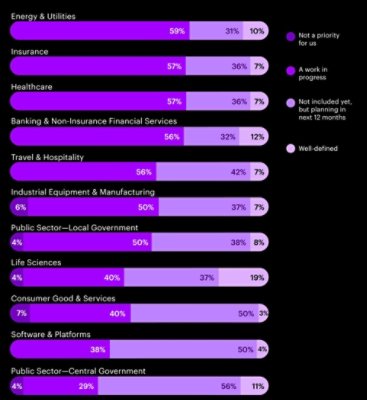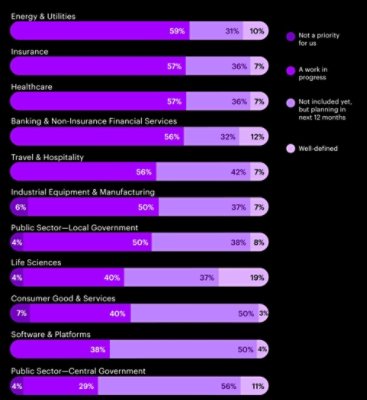 Overall, of those companies who have made or are considering sovereign cloud investments, we found that more than a third (37%) have already invested and nearly half (44%) are planning to do so in the next two years. Within companies running pilots today, as much as 20% of workloads are already being moved to sovereign cloud. And, more than a third of surveyed companies see the potential for eventually moving between 25% and 75% of data, workloads or assets.

Where's the value?
Our in-depth interviews with European executives revealed that companies considering sovereign cloud are looking to achieve a range of different enterprise benefits.
Increased control
Companies expect sovereign cloud to help them keep control of their data globally, not only across their own international operations, but also the wider ecosystem of partners, employees, government and other stakeholders.
Regulatory compliance
Companies expect sovereign cloud to support improved data protection and privacy, ensure industry compliance, safeguard intellectual property rights and protect their interests and data.
Reputation
By enhancing the protection and transparency of data, sovereign cloud can increase customer trust and drive retention, as well as support an image-building marketing initiative.
Resiliency
Understanding and controlling data across international operations is central to minimizing the impact of external disruption—an imperative highlighted by the recent pandemic and the Russia-Ukraine war.
Supplier integration
Companies expect sovereign cloud to help solve for the complexity of integrating data management systems across suppliers, and create a common data layer that provides a single source of truth across their enterprise.
Cloud agility
Enterprise leaders expect to mix and match different cloud providers—including custom sovereign cloud solutions—to meet their compliance requirements and business objectives.
Many companies still have unanswered questions about sovereign cloud related to pricing, return on investment, reliability, how to manage it internally, talent implications, and how it compares with hyperscaler solutions, not to mention how it will adapt to a regulatory and geopolitical environment that will inevitably keep evolving in the future.
Our survey also shines light on some of the challenges companies are facing today, first and foremost related to the complexities brought on by multiple regulations and guidelines.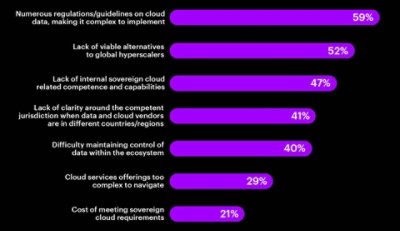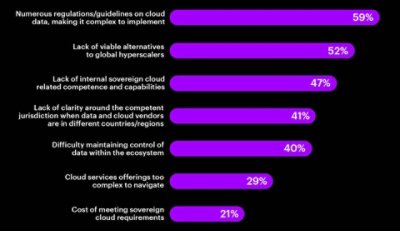 Given all this complexity and uncertainty, how should companies be approaching their sovereign cloud decisions? We believe there are several key trends and success factors to consider.
Sovereign cloud success factors
A partner play, not a solo venture
One of the key trends emerging as the sovereign cloud market matures is the importance of multi-vendor partnerships. In Europe, for instance, some local technology vendors are collaborating with global hyperscalers to allow their customers to benefit from digital sovereignty protections without compromising best-in-class cloud technologies.
Hyperscalers, too, are adapting their services for sovereign cloud.
Our survey confirms this trend toward multi-vendor solutions is growing fast. Europe-based enterprises told us they plan to rapidly increase their use of a mix of global and local cloud providers in the future.
Emerging ecosystems show the way forward
The broader sovereign cloud ecosystem is also becoming increasingly important in bringing interested parties together and defining relevant frameworks and standards.
These ecosystems include regional and national policymakers, representatives from regulated sectors and critical industries most likely to be impacted by data sovereignty requirements, and industry alliances, consortiums and associations, as well as the hyperscalers, potential sovereign cloud providers and other enterprise technology vendors.
A transformation, not a quick fix
Adopting sovereign cloud needs to be considered as a transformation—and the technology is only part of the equation. Organizations also need to consider C-suite buy-in and the overall impact on processes, data and people.
This is why we believe the following sovereign cloud best practices are critical:
Strengthen data management
Distinguishing critical/sensitive data for the purposes of regulatory compliance calls for robust data classification and management.
Enhance control and trust
Organizations that develop a specialized competency center to oversee data governance across the enterprise are better able to manage the complexity of establishing data control across borders.
Learn from a multi-cloud approach
Companies with mature cloud strategies encompassing multiple vendors and a hybrid cloud approach tend to adopt sovereign cloud earlier and more easily.
Select the right vendors
Sovereign cloud projects usually also call for a multi-vendor/ecosystem approach. Partners should be selected carefully, based on their cloud and industry expertise, as well as their knowledge of region-specific regulations.
Cut through the clutter and unlock the power of sovereign cloud
Cutting through the clutter of the nascent sovereign cloud market is the key to finding value. This means taking a holistic view of data, focusing on priority use cases and workloads, and finding partners with experience in implementing tailored multi-vendor solutions.
In this way, organizations can develop a sound sovereign cloud strategy that delivers enhanced transparency and trust, helping them take control of their data and unlock new sources of value in the digital realm.