Call for change
What makes people successful? Intelligence? Hard work? No. Social background is the main predictor of educational and professional success – especially in Australia, where the gap between advantaged and disadvantaged schools is unusually wide.
This is the issue Accenture's not-for-profit partner, the Australian Business and Community Network (ABCN), is working to address. ABCN brings businesses and schools together to ensure students from low socio-economic status schools have access to the same opportunities and mentoring than those from more privileged backgrounds.
For 16 years, ABCN's life-changing mentoring programs have been delivered face-to-face in workplaces. But, in 2020, that was no longer possible. Pandemic restrictions meant these exchanges had to go digital.
In the 18 months prior to COVID, Accenture had worked pro bono to define and build a digital strategy to envision how to grow its impact to 15,000 students by 2023, including ABCN's first fully digital mentoring.
But, ramping this up to a mainstream online offering in 2020 required a pace and scale of change beyond anything ABCN could have imagined possible.
When tech meets human ingenuity
With mentors and students in lockdown, ABCN took the learnings from the pro bono work pre-Covid and converted face-to-face programs to online. It simultaneously worked with Accenture to spin up new engagement concepts and rapidly grow the digital skills of a small team, to support students facing more uncertainty than ever.
The fact that GOALS was scalable proved invaluable when COVID-19 hit, lockdown came into full effect and kids were unable to return to schools.
As wellbeing became a major issue, the Accenture team ran a three-week project to design, test and deliver different concepts for engaging students in isolation. In a matter of weeks, ABCN was able to launch the resulting inspiring video-sharing initiative – ABCN Connects – whereby teachers could encourage students to keep thinking about their future, resulting in fantastic feedback from the 6,000+ students viewing the videos.
Most importantly, the ABCN staff involved in the accelerated projects were able to immediately extend their new learnings and tools across all their other digital transformation initiatives.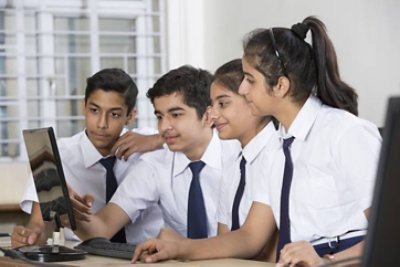 A valuable difference
Supported by Accenture teams, ABCN has accelerated its digital strategy, moved its mentoring programs online and launched new, fully digital programs. In 2020, the not-for-profit was able to fast-track its previous work with Accenture to deliver 179 digital mentoring programs. Support has been extended to regional, rural and remote schools, including a dedicated program offering for Aboriginal and Torres Strait Islander students, creating hope in marginalised communities.
ABCN's digital service puts it on track to reach its target of 15,000 students by 2023. Having digital skills can change more lives, helping disadvantaged young people to gain confidence and exceed their potential. More young Australians will be first-in-family to complete Year 12 or attend university – breaking the cycle of disadvantage, closing the gap and creating generational change.
Using Accenture's human centred design process, student and mentor satisfaction metrics are equivalent or better in digital versus the face-to-face programs. This has given ABCN the confidence that digital program delivery can be a pivotal growth lever.
179
Digital programs in 2020 (2019: 4).
95%
Digital GOALS students: "I believe I will be successful in the future" (before the course: 42%).
92%
Digital GOALS students: "I feel confident using video-conferencing for conversations with professionals" (before the course: 41%).
62%
ABCN students receiving university offers (compared with 46% for disadvantaged students).
890
Mentoring hours by Accenture volunteers to reach ABCN students.
140
Laptops donated to ABCN schools.