CASE STUDY
Refugee aid at the speed of tech
How USA for UNHCR found clarity on the cloud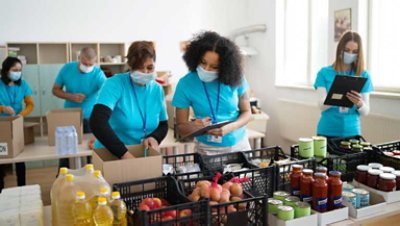 Call for change
No time to waste when crisis hits
Around the world, 82 million refugees have been forcibly displaced from their homes due to persecution, violence, human rights violations and even climate change. They need all the help they can get.
USA for UNHCR (U4U) specializes in fundraising and delivering critical supplies to children and families. But disconnects between U4U's legacy tech platforms made collaboration among staffers challenging and delayed outreach to donors, new and old alike.
U4U envisioned a simplified architecture that would offer a more holistic, 360-degree view of partners and pledges, and drive more impactful fundraising campaigns. The organization tapped longtime partner Accenture for support.
 
When tech meets human ingenuity
A tech stack built for action
The joint team agreed on a full migration to Salesforce Nonprofit Success Pack (NPSP). Designed for nonprofits, NPSP delivers all the digital tools, services and apps a team might need. Active users were integrated by way of five issue-specific onboarding sprints, each three weeks long.
Accenture drove additional value by guiding U4U to focus on the data that really mattered, cutting the clutter and rewiring the rest. Together, the joint team consolidated nearly 90 tables to just 10 within Salesforce—simplifying more than 212 million records to 13 million.
A valuable difference
Fundraising fast and with a purpose
The team successfully set up a full-service fundraising platform for Afghanistan relief the same weekend as the US withdrawal. The transformation enabled U4U to better personalize outreach and more efficiently mobilize US dollars for refugees. And by the end of 2021, U4U raised nearly $65 million for refugee aid everywhere, a 4.7% uptick from 2020 totals.
Tragically, humanitarian work is never finished—nearly 13 million people (refugees and internally displaced persons) have fled violence in Ukraine. In these uncertain times, U4U's improved operations help to build allyship with refugees, drive advocacy and make a meaningful difference around the world.