CASE STUDY
Warming up to becoming data-driven
Industry X powers urban heating with efficiency and sustainability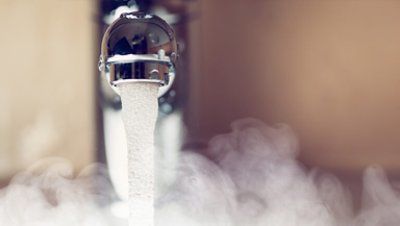 Call for change
Adapting to tectonic energy shifts
As demand for clean heat grows in France, so does the need for Coriance, a French district heating provider, to quickly, efficiently and safely generate and store electricity at local power stations. As a provider of heat across vast municipal networks, the company knew it needed to embrace digital innovation. It was also seeking new ways to improve sustainability and efficiency. The potential savings could be used for accelerating its renewable energy investments and to further expand upon Coriance's sustainability commitments.
Coriance had long relied on several Supervisory Control and Data Acquisition (SCADA) systems previously installed by local municipalities. However, these traditional control networks lacked data cohesion and consistency. Their engineers had to manually enter data into complex spreadsheets, making it impossible to analyze power meter data from one centralized location—let alone use it to improve asset performance, increase power production and adjust to avoid problems. The company needed to unify its reporting systems and dramatically enhance the quality and usefulness of all operational data.
Environmentally conscious communities are switching away from carbon-heavy fossil fuels to renewable sources of heat. This wide-scale move affects everyone, including the utilities that supply customers with essential power and heat.
When tech meets human ingenuity
Taking flight in the cloud
Coriance kicked off a multi-phase collaboration with Accenture to digitally upgrade and modernize its operations. The primary focus: Leveraging innovation to improve and expand renewable heat production, distribution and the performance of its assets across multiple heating network sites.
During the digital transformation, plant workers gained real-time insight into aspects of asset performance through the predictive platform thanks to the data-driven platform connecting all of Coriance's power plant systems. The cloud-based platform-as-a-service (PaaS) solution was powered by Microsoft Azure and an intelligent data visualization dashboard called the Plant Information Management (PI) System. Switching to this powerful, enterprise-wide cloud solution at scale could help the company lower IT expenses and operate much more flexibly and proactively.
Power station leaders and field engineers can now work smarter, safer and more productively with a single source of truth at their fingertips across all plants. Plus, they can quickly spot and act on opportunities for operational improvement and cost savings. They can also identify potential issues thanks to a system created by data scientists and designed to immediately flag discrepancies at substations and heating networks.
A valuable difference
Energy transformation powered by data
With its energy functions standardized and centralized, the company can make more accurate budget and asset management decisions, plant by plant. For example, equipped with the new PI System, Coriance engineers compared the performance data of twin biomass boilers and noticed that one was lagging – and were able to proactively bring back the boiler up to speed. The access to data analytics on-site also allowed Coriance to determine the exact temperature needed to optimize performance on their steam turbine, along with a host of other significant efficiency improvements, and help improve the company's productivity per site.
The successful digital transformation drives Coriance closer to its goal of producing heat more efficiently while increasing the use of renewable sources. The company continues to power big changes in the energy market, innovating from the ground up.
Using data-driven innovation to increase operational visibility across its mechanical and electrical systems, Coriance could increase productivity, profits and renewable energy production.