THE I IN
EXPERIENCE


Enabling individual control over the experience



Consumers increasingly hold liquid expectations, where their best customer experiences become new benchmarks for every interaction. This has prompted many government agencies to dramatically increase their focus on customer experience (CX) to close the gap with commercial leaders.
But as government agencies and commercial businesses alike work to further improve the service delivery experiences of their customers, they often discover something unexpected along the way: their customers are interested in more than just a better experience. They also want choice and what sociologists call agency or independence in how that experience takes shape.
Take, for example, the notion of personalized digital experiences. Demand for personalization is high. In a survey by Adobe, 67 percent of consumers said it is important for companies to customize content automatically based on a person's current context. And a sizable portion of those surveyed—42 percent—even went so far as to say that non-personalized content annoys them.
But the methods that organizations use to personalize delivery of their services and products are becoming a bigger concern for people. News stories regarding both potential bias in AI systems and deceptive online marketing practices have contributed to mistrust in data-gathering practices and sinking attitudes toward black-box personalization. In RSA Security's Data Privacy & Security Survey for 2019, only 17 percent of respondents said they thought personalized ads were ethical, and only 24 percent said personalizing newsfeeds is ethical
Expect to have to exceed expectations
Expectations are changing dramatically, especially as digital natives enter the workforce. A popular book series in the 1980s and 1990s, Choose Your Own Adventure, allowed tween readers to personalize the storyline. Today's generation spends countless hours in Animal Crossing, Fortnite and Minecraft constructing their own societies. As they move into adulthood, they have fueled the growth of fast casual restaurants defined by highly customizable menus with meals constructed in front of them.
What's evident is that users want more customization and personalization, but they also want greater transparency into how these decisions are made, the ability to take the wheel in designing their experience, and assurances that their data won't be used inappropriately.
As a result, enterprises increasingly recognize the need to partner with users to design experiences collaboratively. Organizations, ranging from Uber and SoFi to Hulu and Amazon, are ceding more control over their digital experiences to their customers to better suit their needs, preferences, and values. For example, Uber Comfort allows riders to let drivers know in advance if they want to chat or be left alone.
Federal agencies are making strides in this area as well. The Veterans Benefits Administration's redesigned appeals process provides veterans with new options that they can select to expedite their review, allowing what is typically a multiyear process to be completed in as little as four months in some cases. In short, experience is important to customers, but so is the context around that experience. Think of context as the balance between frictionless personalization and trust that is earned through customer collaboration. As digital experiences become richer and fuller, due to the prevalence of emerging technologies such as 5G and virtual reality, the customer's desire for greater agency will also inevitably increase.
Consequently, we are seeing a new generation of technology-driven experiences coming online that make the user an active participant in creating the experience, and, in effect, changing the paradigm to make choice and agency a central component of service delivery.
What do these trends mean for federal agencies?
Survey data show that most federal executives already understand these trends: 92 percent of federal executives believe that, to compete in a post-digital world, organizations need to elevate their relationships with customers as partners. Moreover, a sizable majority (78 percent) of federal executives agree that organizations need to dramatically reengineer the experiences that bring technology and people together in a more human-centric manner.
But how can they implement these ideas?
The impact of COVID-19
In the wake of the COVID-19 pandemic, the nation sheltered, making digital experiences more important and pervasive than ever in people's lives. For federal agencies, these channels may be the only way that many individuals feel safe or comfortable engaging with government. Consider these steps:
In the short term
Government agencies should pursue greater agility in deploying additional self-service options. For example, a number of agencies quickly implemented chatbots to handle the onslaught of unemployment and healthcare queries overwhelming traditional call centers. At the same time, agencies like the Department of Agriculture, the Social Security Administration and the Internal Revenue Services have enabled self-service by expanding their acceptance of digital signatures.
In the long term
Federal leaders should double-down on their commitment to digital channels. COVID-19 is a behavior-changing event. Not only will individuals continue to prefer and pursue more convenient alternatives to in-person services and meetings, but businesses will accelerate their innovation to provide them with more vital, personalized, and interactive digital experiences. This will further raise the stakes for government to keep pace.
Get the Essentials
Accessible PDF Accenture-AFS-Customer-Experience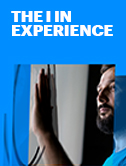 Trend Report
Accessible PDF Accenture-AFS-Five-Trends-Defining-Post-Digital-Government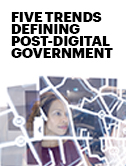 Full Report
Accessible PDF Accenture-AFS-Five-Trends-Defining-Post-Digital-Government-Infographic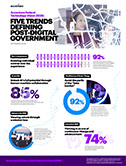 Infographic
SlideShare
A SlideShare highlighting key survey findings in one concise document.
Visit our Subscription and Preference Center
Visit our Subscription and Preference Center