Accenture Federal Technology Vision 2020:


FIVE TRENDS
DEFINING
POST-DIGITAL
GOVERNMENT
In brief
In brief
Accenture's Technology Vision identifies top emerging trends shaping the post-digital world
The coming decade to be defined by reimagining the balance between humans and machines
Current tech-clash driven by enterprises' inability to adapt to the higher expectations of post-digital consumers
Federal agencies must embrace new approaches to managing technology to keep pace with the escalating rate of change
---
---
We are now in a post-digital world.
Our personal lives are so intertwined with technology today that we often don't even think about digital as an option for engaging with the world around us—it has simply become our default. And this trend has only accelerated in the wake of the COVID-19 pandemic, with remote work, Zoom happy hours, and touchless transactions now the norm.
The challenge is that many enterprises, including federal agencies, are struggling to keep pace, as they are still in the early stages of their digital transformation.
It seems much longer ago, but it has been only eight years since the federal government embarked upon a vision, called Digital Government: Building a 21st Century Platform to Better Serve the American People, to modernize itself as an entity that embraces innovation, operates digitally, and fully leverages data to enhance decision-making. While progress varies, most agencies today are well down the path of their digital makeovers. But no matter how much progress they make, they seem always to be playing catch-up with the expectations of the tech-savvy citizens they serve.
The national security community is not immune from these challenges either. Defense organizations, slowed by arcane business processes and an accumulated technical debt, often struggle to keep pace with the rapidly advancing state of commercial technology. This has given more nimble nation states the potential to reap battlefield advantages by incorporating these innovations more quickly.
To better appreciate the increasing importance and prevalence of technology today, consider these data points from new Accenture research:
of federal executives see technology as an inextricable part of the human experience (compared to 83 percent of executives globally).
of global consumers view technology as a fully integrated, ingrained, or prominent aspect of their day-to-day life.



of U.S. consumers see technology becoming more important to their lives over the next three years.
Given this starring role technology increasingly plays in our lives, it makes sense that we take technology personally and expect much more from it. In fact, we are seeing signs that our unconditional love for unlimited technology is fading. People are reevaluating their digital relationships with businesses and governments—and reexamining whether the value those enterprises deliver is fully aligned with their core values.
Citizens, for example, may chafe against government digital services that lack transparency in the decisions they make or the privacy protections they offer. They may bristle at having to fill in the same information about themselves with every digital interaction. They have concerns about the role that artificial intelligence plays in government decisions that affect their lives. Despite broadly using and benefitting from technology, people are expressing concerns about how it is used and what it is used for—and they are advocating for change.
Government employees—from benefits administrators and nurses to warfighters and intelligence analysts—experience similar frustrations on a daily basis. Too often, agencies operate based on technology constraints versus the needs of the mission. What workers need are empowering digital tools worthy of the often complex and critical challenges that they face.
Tech-lash or Tech-clash?
Some are referring to today's environment as a "tech-lash," or backlash against technology. But that description fails to account for the fact that we're using technology more than ever. It would be more accurate to think of it as a tech-clash — a collision between old technology models that are incongruous with people's current expectations.
The chief take-away here is that we don't just want more technology in our products and services; we want technology that is more human-centered and that appreciates our personal values and desire for greater control in how we interact digitally with our government.
This presents an important opportunity for government agencies as they proceed along their transformation journeys. We can't simply continue to bolt-on digital technologies to legacy operating models. Rather, we need to reimagine how we work and deliver services to take full advantage of our new digital capabilities. This becomes especially important as we navigate the expansion of AI, creating the need to rebalance the relationship between humans and machines.
Agencies can diffuse this tech-clash and foster more trusting relationships by making transparency, accountability, and collaboration the new litmus tests for future engagements. They will need to empathize with the individual using their services by incorporating human-centered design models. In other words, success will require an innovative approach to innovation itself.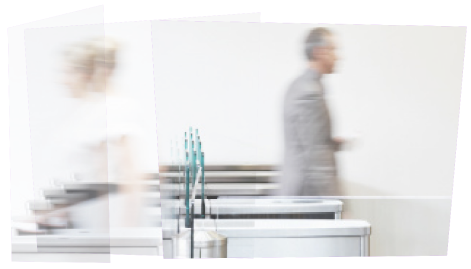 "
Agencies that take the lead with a shared-success mindset — and invite collaboration with citizens, employees, ecosystem partners, and other stakeholders — will create new opportunities for growth in a way that benefits all.
Building a better, human-centered future
By giving citizens greater voice and personal agency in their dealings with the government, federal agencies can create stronger bonds of trust and collaboration with the citizens they serve and thus advance their own mission aims.
One final point: while we frequently focus on meeting the needs of citizens and other external stakeholders, these lessons are equally important for the employee experience that we offer. Expecting federal workers to thrive and succeed in a digital world with antiquated technologies and legacy processes is unrealistic.
The focus of our Federal Technology Vision this year—Five Trends Shaping Post-Digital Government—describes what is happening now and outlines new ways for federal enterprises to build a better, human-centered future. Once again, technology is the catalyst to steer the realignment. Agencies that take the lead with a shared-success mindset—and invite collaboration with citizens, employees, ecosystem partners, and other stakeholders—will create new opportunities for positive government-citizen connections, increased citizen trust, and mission success in a way that benefits all.
In this report, we discuss five technology trends that showcase the many ways that our perceptions of technology are evolving and how federal agencies will need to adapt accordingly.
Trend snapshots
The five trends defining post-digital government
The following are five technology trends that we believe all enterprises will need to be mindful of and navigate with care. These trends apply globally, but they are especially relevant for federal leaders and organizations. If poorly managed, they can amplify today's tech-clash. But if agencies see them for the opportunities they are and address them thoughtfully, they can manage these trends successfully and produce tangible benefits for themselves and the constituencies they serve.
The I in
Experience
Enabling individual control over the experience
Build greater trust and engagement through a more collaborative, human-centered experience. When agencies become partners in experience creation—and not just providers of it—they can transform their relationships with citizen customers.
AI and
Me
Unlock AI's full potential through human-machine collaboration
Civilian and national security agencies can achieve better overall outcomes by changing the nature of their work and empowering human employees with better information and greater capabilities.
The Dilemma
of Smart Things
Avoid the perils of the "beta burden"
As both a provider and consumer of digital products that are in constant flux, the federal government has an opportunity to mitigate risks and enhance its supplier and consumer relationships.
Robots in
the Wild
Viewing robots through a mission lens
The value and versatility of robots serving federal missions is growing rapidly. To capitalize, agencies will need focus, imagination, and education.
Innovation
DNA
Thriving in an era of continuous change and advancement
Agencies know they cannot solve our biggest national challenges with conventional tools and approaches. But to adopt innovation as core to what they do, they will need to assemble the right mix of capabilities and partnerships.
Exploring Tech Vision
Since 2001, the Accenture Technology Vision has provided an annual glimpse into the most important trends impacting business, government and society over the next three years. It is produced by Accenture Labs and Accenture Research with additional input from one hundred Accenture leaders and more than two dozen external experts. We also survey more than 6,000 government and business leaders and 2,000 consumers globally to produce our analysis.
This year's global report, WE, THE POST-DIGITAL PEOPLE, shows how these trends are forecasted to impact consumers and business globally. It features specific examples of how commercial leaders are trailblazing a new path into the post-digital world.
The Accenture Federal Technology Vision 2020 builds on this foundation with added insight from more than 50 Accenture Federal Services experts and survey data from two hundred federal program, business and IT leaders.
Each year's Accenture Technology Vision is designed to address a three-year window. By reviewing the Accenture Federal Technology Vision 2018, readers can assess how accurate our predictions for the federal government are likely to prove. Trends that year included Citizen AI, Extended Reality, Data Veracity, Frictionless Business, and Internet of Thinking.
This year's research was conducted before the full impact of the COVID-19 pandemic was felt. Given the magnitude of the changes occurring throughout society, Accenture has produced additional analysis—Driving Value and Values During COVID-19—assessing the impact on our overall forecasts.
Get the Essentials
The Accenture Federal Technology Vision 2020 builds upon unprecedented research to offer federal executives direct insight into the five emerging technology trends most likely to transform and disrupt how agencies operate over the next three years.
Accessible PDF Accenture-AFS-Five-Trends-Defining-Post-Digital-Government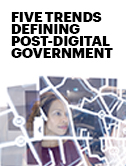 Full Report
Accessible PDF Accenture-AFS-Five-Trends-Defining-Post-Digital-Government-Infographic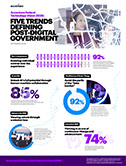 Infographic
SlideShare
A SlideShare highlighting key survey findings in one concise document.